What makes us confused and torn in decision-making is the choices we had. Choosing between which is and which not, between this or that, should or should not. Quite hard right?
Life is full of choices that we need to choose and take. Choices that make us regret or not. But whatever we choose, good or bad, it's up to us to decide.
Two weeks ago, I set my first goal with my BCH earnings here and in noise cash and decided to HODL the rest likes others do. In less than 2 weeks, I have earned almost $25 in total. I am very happy, I thought that in just a month I can fulfill my goals since it's just simple. I continue writing articles and posting in noise cash and earnings never stop.
Within two weeks my earnings got almost at $35+(not accurate because I don't visit my Bitcoin wallet every minute or hour). $35 is a big amount of money for me, and imagining that money can be doubled in a month, makes me feel like on cloud nine. I can fulfill my goal for my parents and just only think about the other one. After that, I can set my new goal now.
I planned and planned and that plan scattered into pieces because of the dip. I guess it's true that you shouldn't go ahead of your mind because it will be a jinx.
The money I save that is supposed to be at $35+ is now $20, but last night it was dropped to $12. It recover somehow. BCH is playing within it's value at $700+ to $800+. I hope it won't be lower than that.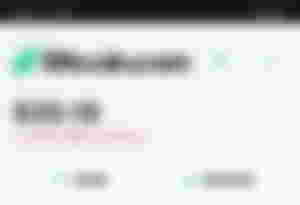 I already felt that regret the last time I spend my BCH earnings during my early days here in read cash. I promised myself not to do that again, save and hold as much as possible because I believe that saving BCH is a good investment. I know I shouldn't doubt nor have second thoughts about it, but seeing how BCH dip to its lowest yesterday makes me feel this regret again. I am starting to say "what if". What if I transferred it into coins and converted it to peso, the money will be higher than now. What if I converted it to peso, then I can buy now the item I want to buy for my parents. What if every time I save a dollar or two I will transfer and convert it immediately. In that, the money I save will be at a fixed value.
But that " what if's" can also be in the opposite, right? What if I hold my saving and wait for BCH to rise again, then my saving will get higher.
This is the time to choose which I think is right or best. But I think whatever my decision is, it will lead me to regret it again.
My friends here and in noise cash keeps on telling me to trust and hold BCH because it will have a great comeback. That the last time we start here the value of BCH is still at $200+, what more now. That BCH will rise again and I just have to wait patiently.
Because cryptocurrency being volatile, its changes are constant and it's inevitable. That's the pros and cons of cryptocurrency. Any second or minute its value may drop or rise.
I am fully aware of crypto being volatile, but still, I can't shove that feeling of loss. I am thinking positively that BCH will rise at $1000+ value, but every time I visit my bitcoin wallet or someone said to me that its value drop, can't help to think again to transfer and convert it.
As what @Ruffa 's article said Don't Panic, Hold on and Buy on the Dip, I must follow her advice, don't panic, and hold on. (Not to buy because I don't have enough savings😁). Also, I have read articles saying that when BCH drop, do not convert wait for it to rise again. It's a bad decision to convert when BCH is on the dip.
I am following that advice. I am strongly holding myself back not to transfer and convert my BCH. But there's a small voice whispering to my ears to do the opposite.
What should I do? Should I listen to that whispering voice and convert or trust and HODL BCH?
I must hold back! Don't be swayed!
Hold on. Don't let go! Right?
What do you think?