We're living in a world where everything revolves around technology. Literally, everything.
When the governments around the world implemented a total lockdown that almost took a year, I must say that it has made a significant difference in our environment, as previously crowded cities have been transformed into ghost cities. Polluted roads that are clogged with tens of thousands of cars every day are transformed into peaceful roads. The lockdown makes everything so peaceful. Seeing animals freely walking on roads and in public places without fearing humans that might hit and attack them is a sight to behold. I must say that the Covid-19 outbreak has had a huge impact on our mother nature. It contributes to restoring its beauty, which was gradually fading as a result of our actions. The beaches, mountains, everything has become so peaceful.
But as the new normal came, and everything seemed to be slowly returning to normal, the opening of school, work, and etc. The peaceful place from before is back to being crowded once again, and a silent road is slowly becoming polluted again because of those cars. We have become irresponsible again. 
When the government authorized several tourist spots and beaches to reopen and welcome visitors, many citizens and tourists were ecstatic to be able to travel again after being confined to their homes. As the tourist attraction reopens, so do the trash and plastics that have been strewn everywhere.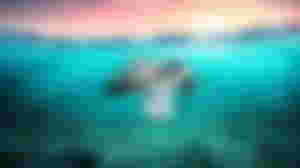 I'm quite sure we're all aware that the majority of the rubbish we toss away ends up in the ocean. Thousands of marine species die every day as a result of eating plastic instead of ocean foods since millions of pieces of plastic and waste are dumped into the ocean every day. Every year, hundreds of thousands of whales, dolphins, and seals become entangled in nets and lines, dying slowly and painfully from suffocation, starvation, and dehydration.
[ Millions of marine animals die every year because of the trash and plastic that has been thrown out by selfish and irresponsible humans. ]
One of my favourite YouTube content creators has created another environmentally friendly fundraising charity to clean up the ocean debris. Jimmy "Mr. Beast" and other YouTubers have once again created a fundraiser video for environmental and marine life improvement. They launched #TeamSeas, a $30 million fundraising effort to remove 30 million pounds of plastic and waste from the oceans, beaches, and rivers. They also held a successful fundraiser two years ago called #TeamTrees, in which they planted over 20 million trees.
Every $1 you donated is equivalent to a pound of trash taken from the oceans. And if you wish to donate, you can just freely click this link here #TeamSeas. As of now, they have already accumulated 3,811,354 pounds removed.
By simply donating, we can already help bring back the beauty of our mother nature.
Let's help our marine wildlife live a better life. Let's make it happen to remove 30 million pounds of trash by the 1st of January 2022.
Our world is slowly dying, and if we don't take action with this, the future generation will no longer be able to have a better place to live in. It's sad to say this but we all might gonna die as well along with our dying mother earth.
---
Jini's Note:
I have read kuya kudo's @meitanteikudo prompt about our mother earth. But it was actually an open letter to our mother earth. But mine is not an open letter LOL. But it's okay since it has the same message for everyone living on this planet.
Your $1 donation gives a huge difference in helping clean the oceans.
Thank you guys for dropping by and spending your precious time reading this article of mine.
You can always hit the Like and Subscribe button if you want to.
Arrigathankyougozaimuch :>
010302021