Hilot sa piang- accupressure on sprain by manghihilot...Why it matters to Bisaya people
I already mentioned before that I got a little accident in the bathroom and instead of my head, I used my arm to protect myself from the fall. Thank God, despite the pain I am still alive.
Oh hello, sorry for not saying my routinary greetings, my dears. Just your witch here trying to speak her mind after a few days of absence. How are you dealing with the heat? Would you like me to cast a spell for the sky to shed a tear?
We- Bisaya people usually do not go to the doctor whenever we have "piang" or sprain or displaced joints. We usually go to the "manghihilot" or quack massage therapist first. Just like a quack doctor "albularyo" or faith healer who practices magic and enchantment to heal a person, a "manghihilot" is usually not a professional person who studied about injuries and stuff but can cure sprains miraculously. They are our first aid- our first resort whenever we have accidents. Of course, we know it when it's a major thing and a patient needs to be hospitalized.
Piang- it means sprain or joint displacement
When we were practicing our steps during cheer dance, I accidentally took the wrong turn thus spraining my ankle. It was so painful that I couldn't walk hence my teammate carried me towards the chair. We had to go see a "manghihilot", he checked my ankle, applied some oil, and just twist carefully. The pain in the ankle stopped and I could walk again! I didn't pay that much, just 20 pesos I think. If it were in a clinic, I got to pay the doctor's fee, buy a pain reliever, and worst, I might be advised to have an X-ray. Thank you Uncle Hilot for helping me!
Now, going back to my accident. I still have this "piang". I rested it for a few weeks but since I have a baby, I need to carry her and all that stuff. The effort exerted sprained the affected area again and it got swollen. It was really painful that I cried- not only because of the pain but also because of self-pity that I cannot afford to pay for a "hilot" to heal me. Thankfully, my sister came to the rescue and gave me something for the hilot. It's just so hard to find one here in Manila because they are "scarce". Of course, you can go to the massage clinic but I am not sure if they can really heal the "piang". They will advise me, definitely, to go to a physical therapist.
Hilot for women who just gave birth

When a woman gives birth, it is believed that all her veins "loosened" due to labor and stress and the hilot needs to massage her to put back all those loose veins together. If not, she will easily have "binat" or overfatigue.

I have a personal experience regarding this. After I gave birth, I wasn't attended by the hilot. I just worked as per normal. There was a time when I had to ride a tricycle every day and the road was so bumpy- I started feeling the fatigue. I felt weak no matter how I sleep and eat. To my desperation, I went home to my grandparents in Bulacan. We went to their trusted "hilot" and spiritual adviser. She touched me, starting from my hair to my hands- she had powers. She pulled my hair, massaged my arms, and the rest of my body. I felt energized and refreshed. I was so thankful and happy. She said, "Your colors are back now, your cheeks are now rosy". So I was already really so pale. Then she let me pray to the church. When we reached home, another "hilot" was already there waiting for me. I took a warm bath- the water was boiled with "atis" leaves. Then she used Ventusa on my body, to get the remaining "lamig". I asked her how she became a "hilot", she said it was a "gift". She was a breech baby.
Do you know?
A breech baby in the Philippines is believed to possess natural healing power. They heal an affected or painful part of the body through a simple massage.
Going back to my story. So the "hilot" massaged me, I slept like a baby while she was doing it. I never felt so relieved and relaxed in my life. I didn't want the massage to end.
Hilot for those who have a fever

I am not sure why this one's only focused on people who have a fever but I did talk to someone because of my situation. Manang Vergie said she knows a "hilot" but to someone who has a fever. I didn't ask her to elaborate.

Hilot for those who have sprains

They are not physical therapist but they are good at putting your sprained ankle or arm to normal. Definitely no pain after the massage- you will only be advised to not wet the sprained part for a day.

Hilot for general massage only

You see them in massage clinics, they are the folks who will ask you, "Maam, hard, medium, or soft?". And they will clap whenever they are almost done with you. Just kidding- clapping is part of the massage. I love going to massage clinics, it was one of my stress relievers when I was working.
Do you know?
Our "hilot" can detect whether a woman is pregnant or not just by checking her pulse. Amazing, isn't it?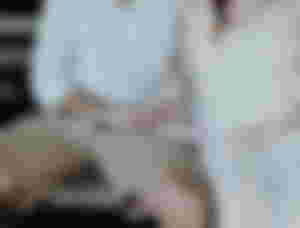 I need to go to the hilot, really so I could finally use this right arm as per normal.
Do you believe in "hilot"? Did someone introduce you to a "hilot?", how did it go? Do let me know by leaving a comment below.
Anyways, I visited my other "personality" because it was my first. I don't know what to feel anymore. I come to love this "side" of me- the witchy side and I think I'll stick to this one. What do you think? RR likes HermaniGinger :)
Author's note: All rights reserved- all original content unless stated otherwise. The purpose of this article is for entertainment purposes only- DYOR or consult the proper authorities if you wanna go to a health practitioner due to an ailment.
The images were all from Unsplash.com
My sponsors are heavent sent. My 35 subscribers are my inspiration as well.
March 23, 2022
Balik- balik sad ;)
©HermaniGinger