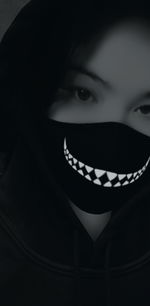 All of us wake up being too energetic or tired, it depends on what we do last day or this past few days. Some of us are lack sleep and some of us will be just sleeping right now.
But today, I woke up feeling tired and not okay. Maybe because of my monthly period and I was bleeding for almost 2 weeks and 5 days now. I have no idea about my health issue, but sometimes I'm worried about what if I get admitted again because of loss of blood.
I hate my health issue at home.
So today, let me share with you what I do after waking up.
---
I wake up at 7:00 AM
Usually, I'm waking up early at 7 but today I feel tired and not okay. I feel like a headache is waving at me, by the way...I watch movies last night and maybe that's one of the reasons why I lack sleep.

I told my teacher that I'm not feeling well so that I'm excused from her class, I feel sorry for my absence but I need to rest. But how am I supposed to rest if I'll go to the town to update ng voter's certificate?
Okay so let's go back to the topic.
After waking up, I do light exercises for 5mins just to restore my energy a little bit.

I go out of my room and eat my fast, and after that, I check ng Gmail if there are any school works that I need to do and yeah, there are too many schools works and hard copies that I need to pass online and at school.
I play with my 2 dogs.
So this is one of my daily routines which is I will call both of them and I'll be playing with them. It's just a stress reliever because I feel like I'm stressed after waking up.

One of my dogs is super naughty, he loves trolling around and my mother was always spoiling him.
Getting ready for today.
And because today will need so much work, I take a bath all ready and dressed up for meeting up with one of my friends who transferred away from the province where the two of us are from.

She's in her 2nd year also and has 1 child which is a boy. She's one of my good friends who used to be one of my comforters before.

I'm getting excited about seeing her since it was already 5 years since the last we saw each other. She still didn't change, she had a lot of text mates 🤣.
The Philpost Office
We lost our way while looking where the Phil-post is, we thought it was inside of the municipal office but they're kinda far away from the office and we need to head back again.

She's very talkative, I miss how talkative she was since it has been a year already. I've missed her a lot.
Way On Jollibee.
While we are on our way going to Jollibee, we noticed a lot of teenagers taking stolen pictures in the plaza. I don't know them but looks like they are just wandering around. Yet, it's not funny because they will take a picture then laugh it off.

When we are on Jollibee, we talk a lot about what's happening in our life. I get to see one of my old friends again who used to be my classmate when I was in elementary and high school.
When I got home, I do some of the house chores.
After I got home, I rest a little bit and then do some of the house chores like changing pillowcases, and later at night, I will go to wash them. Maybe I'll sleep after I published this.

I feel sleepy and tired, yet full of energy again but IDK. I feel like I'm full of energy but yet I feel drained. I just want to sleep all day.
---
By the way, one of my friends last day got her Phil-post ID and she only pays 540php, I go there earlier and ask how much I need to pay when getting postal ID but the staff told me 850php, to be honest, I'm shocked why last day it was 540 and today it was 850..may kurakot bang nagaganap?
---
My auntie saws me waiting for a car outside because I'm going to the market, it is where I will meet my friend. She asked me if I had a date and I told her that, "No, I'm just meeting a friend". But she just laugh and said, "Meeting a friend or meeting someone? Seems like you're denying something".
By the way, I feel insulted by how she talked, I feel insulted like, why would she ask me if she had an answer already even if it's wrong? She can stick with what she has on her mind than minding someone's business. I'm not even doing anything wrong and what I do like meeting an old friend of mine is not wrong also. She's a girl and she has a child, maigi Sana Kung lalake.
I also hear what she said like, "you can stay inside of your house naman than going outside, wala namang kwenta", ey ey ey. Something is not correct, I'm the type of person where I don't go outside without permission from my parents and I'm not the type of girl where I'm always outside 🙄. I just go to the Philpot office because I need my ID before going to Baguio next June, so there's wrong with it pala eh?
But, to be honest? I hate how she judge someone without asking, maybe she's asking but yet she'll not believe what you said. That's what the real insult is there lmao.
Feeling Good eh?
She's always doing that...I feel sorry for the people who judge by her. I hope she change.
---
Today is really rainy. I forgot my umbrella again somewhere and when my mother finds it out I know I'll get scolded again. I feel sorry for the umbrella.

I always forget about my umbrella, not until someone will tell me about that.

Buy the way, don't forget to bring your umbrella guys when it's rainy! Also, don't forget it somewhere like me 🤣.
Nov 4,2021
By: GyraG.