BCH DeFi Startup General Protocols Raises Over $1 mil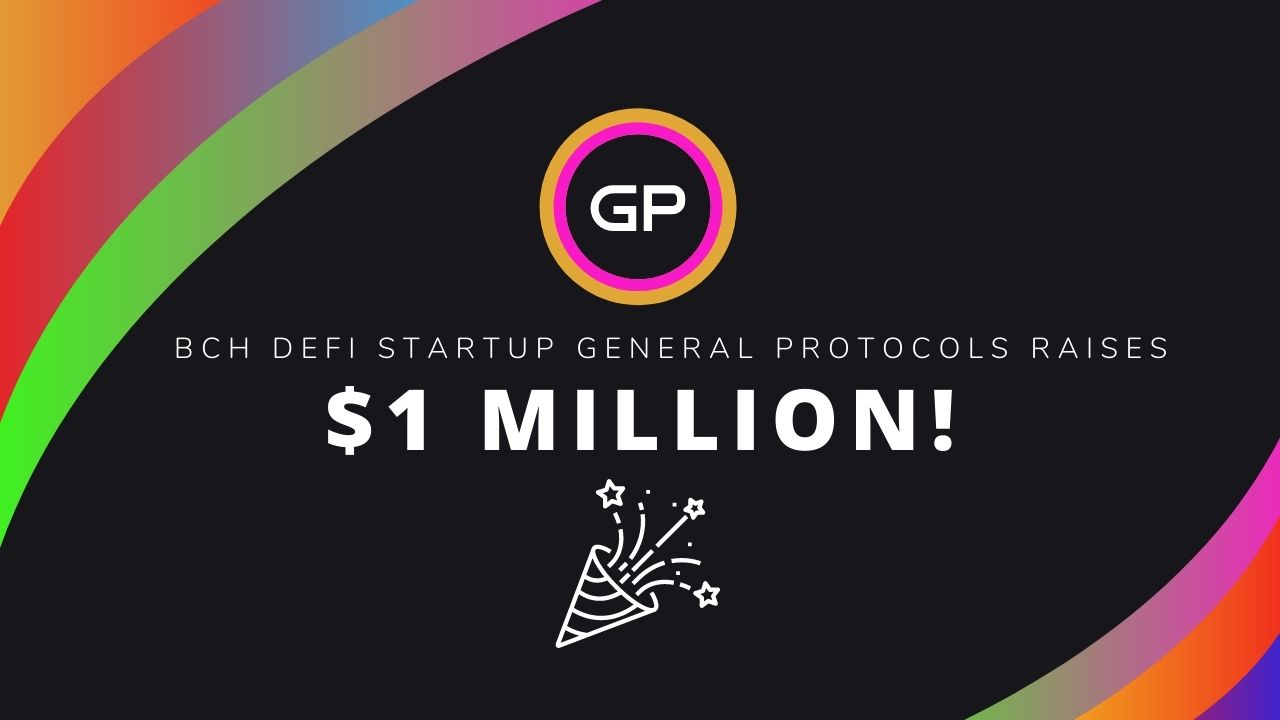 Singapore, 07 May, 2020 -  General Protocols, the first Bitcoin startup dedicated to bringing Decentralized Finance (DeFi) products to Bitcoin Cash, has just raised over $1M in it's seed funding round. The funding came from a variety of investors, which include legendary cryptocurrency trader Marc De Mesel and BCH thought leader Molecular. The new funds enable General Protocols to grow its Bitcoin Cash smart contract derivative product AnyHedge, scale its engineering teams and expand its operations globally.
 John Nieri a.k.a. emergent_reasons, President of General Protocols, was pleased with the raise, commenting, "We are delighted that aligned investors are supporting us in our vision to bring DeFi to Bitcoin Cash. We are building a team of dedicated supporters of peer to peer electronic cash here at General Protocols."
 The core General Protocols team consists of passionate individuals that initiated, organized and helped build the voluntary Bitcoin Cash fundraising project Flipstarter.cash. Flipstarter.cash is an application that allows people to fund projects in a "secure, non-custodial" fashion using the Electron Cash wallet. The team also participated in the founding of Bitcoin Cash Node (BCHN).
Former Bitcoin.com employees Rosco Kalis and Marcel Chuo Join General Protocols
 To assist with the General Protocols expansion, General Protocols has onboarded Rosco Kalis and Marcel Chuo into the team. Previously, Rosco's team Pandacash won the BCH Devcon hackathon held in Amsterdam in October 2018. While at Bitcoin.com, Rosco created CashScript, a high level scripting language for creating complex smart contracts on Bitcoin Cash. In addition to solidifying General Protocol's infrastructure and open source tools, Rosco will continue to develop and apply CashScript to a new generation of robust smart contracts on Bitcoin Cash.
Rosco commented on joining saying, "I'm excited to be working on AnyHedge with the great team at General Protocols."
Marcel will build and manage business relationships and also develop the critical pool of demand for both sides of the AnyHedge contract. Prior to General Protocols, Marcel Chuo held a dual role as PR and Feature Editor in the newsroom as well as Business Development - Special Projects in the business development team at Bitcoin.com. He managed corporate relationships for the company, built a global expansion strategy and coordinated the HTC partnership launch.
 
About General Protocols
General Protocols, the first Bitcoin startup dedicated to bringing Decentralized Finance (DeFi) products to Bitcoin Cash. Its flagship product AnyHedge represents a novel generation of derivatives that utilize smart contract technology on the Bitcoin Cash blockchain. General Protocols came together over the course of 2019, starting with the collaboration of imaginary_username, John Nieri and Jonathan Silverblood, and later incorporating in Singapore.


Website: https://generalprotocols.com/
Contact: marcel.chuo@generalprotocols.com
Telegram: https://t.me/AnyHedge
General Protocols Blog

This article forms part of the General Protocols Blog, a collection of cross-platform links showcasing our team's community activity, Bitcoin Cash projects, UTXO development, and general crypto musings.