"My preoccupied Friday"
Sponsors of GarrethGrey07
Greetings to everyone, it's me again, how are you anyway? Any plans for this weekend?
Anyways, yesterday I don't have any intention to skip a day without writing anything, but my exhausted body didn't cooperate😅, so I just let it rest. Actually my plan last night is I will sleep early then I'm gonna woke up at midnight to write and read articles, because yesterday I wasn't active here. But unfortunately it didn't happen 😅.
My back is aching, so last night I literally felt the aging. Lol.
So yesterday I went to the city with my son for an important errands. As early as six o'clock yesterday morning, my partner calls me in my messenger to give the instructions so things will work according to his expectations 😅. He don't like complicated situation so he makes sure that everything will be okay. His somehow my boss right now 🤣 😂.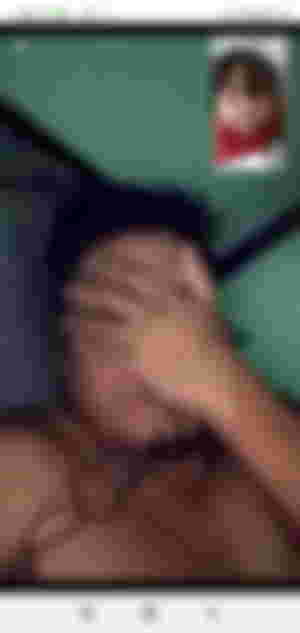 The call won't end without a little bonding for them, so here is my partner trying to play with our son. 😂
Then at around 10:20 AM we left home. We arrived at our first destination at around 10:30. Suppose my transaction at our first stop should be just quick but unfortunately something happened and the transaction gets settled after one hour. My gosh, a delay of it's finest. 😂
Afterward we headed to the bank to deposit some money. I am already tired carrying my son that time, but I had no choice because we are at the city and I can't just let him walk by himself because it's dangerous.
When we arrive at the bank, there's a lot of people inside and outside there's a queue also. At first I fall in line because I thought I have to, but I have noticed that there's people who go inside without lining up so I told the guard that I just needed to deposit some cash, and he let me in. My goodness, I wasted my time from falling in line🤦.
Unfortunately when we enter the bank, a lot of people are already inside. I felt tired of how long the queue inside and so instead of depositing my money over the counter, I just did it using the machine.
To tell you honestly, I don't know how to use the machine. Hahaha. I am always scared that I might lose the money and I felt that using the machine is complicated so I always do my transaction inside the bank through the counter. Much easier and I found it less hassle. But yesterday, there's a lot of people so I don't have any choice but to make a try🤣.
Luckily my transaction went successful. I successfully deposited the money correctly and nothings happen, so we quickly went outside the bank because my son is already running around inside. My goodness 😂. I tried to stop him but he is unstoppable. He don't even want me to carry him because when I try he just cry and so I just let him run😁.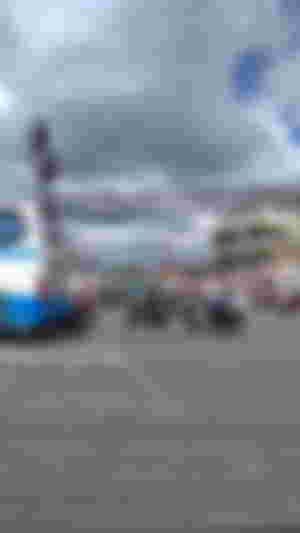 It's already 12 in the afternoon when we finish my errand inside the bank. Outside is still hot, but the dark clouds is already forming. A sign that rain will soon poured. But we didn't go home yet. Even if I am already tired of my sons hyper activeness I still bring him inside the supermarket because I wanna let him play inside. So after he drink his milk we headed to the supermarket.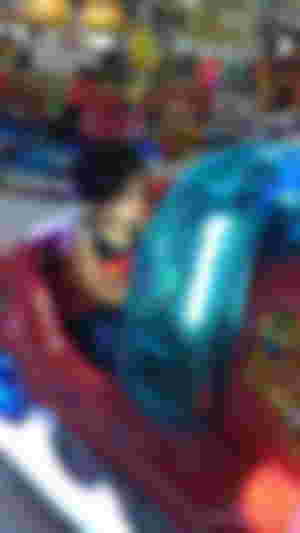 I like to bring him there during weekdays because the place is not crowded. You see, it's almost empty so he can play and ride as much as he wants. No one will took the place 🤣. But we don't have token actually 🤣😂. I just let him hop in and play, because if it's moving he won't play. He don't like it moving. I think he felt dizzy. That's why I don't buy token every time we go there 😁.
Moreover after he gets tired of playing we went inside the supermarket as I was planning to buy him a diaper. His still have milk but he don't have diaper anymore and so we went inside. The supermarket is not also crowded and the counter is not also busy so I grab the opportunity.
So I told my son to behave as I will be going to buy him diaper and so he did. Unfortunately when I get busy looking for his size, I didn't notice that he was also busy picking up diapers 🤣😂. When I look back at him, the basket is already full🤦. My goodness 😂.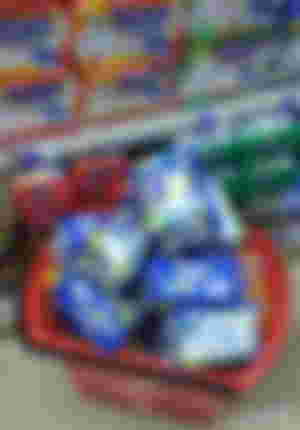 Eventually we didn't buy anything, so he just play with the basket 🤦.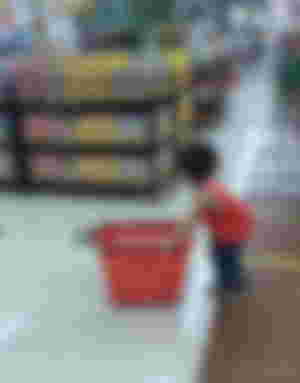 Furthermore we headed home at around 1:55 in the afternoon. I was literally tired. I actually wanted to take a rest also but I have laundry. So right after I bring him to sleep I wash our laundry.
That's why I am literally exhausted yesterday. My energy was totally drained, and I don't have any extra energy to read articles anymore and so I apologize if I haven't visited you.
This is all for today and thank you for reading.