"Facebook followers for affiliate program"
Sponsors of GarrethGrey07
Hello everyone, it's me again. How's everyone doing? I wish you're all doing well and everything is fine. So far I am good and I had a very productive Tuesday, I hope you too.
So here I am again, will gonna talk about Facebook and Facebook followers. But disclaimer;
This blog is not intended to promote any social media sites or any applications, and all the information contained herein is just basically my own thoughts and opinions. This is just made for entertainment purposes only.
So as I am saying, I am again into Facebook. But not for nonsense matters, but also for earnings. Money matters now so I am being wise 😂. Anyways I am not talking about reels and star here, as I am going to talk about affiliate program.
Moreover, it was just last week when I found out that shopee has also have an affiliate program, and everyone can apply. However as usual, they also have some criteria's to be met and that's what makes me busy outside readcash.
Last week, I did tried to submit my application though I know that there's a possibility that my application will get rejected. I just tried if there's an exception, lol . So I took this opportunity because I am a shopee lover. As we all know, I am a big shopper of shopee, and I had so much to say about their products and for sure my own reviews will gonna help me gain more clients. That is why I wanna be their affiliate.
Honestly I also download Tiktok and open my old account, as I also wanna be an affiliate there but, sigh! Gaining followers there is more hard than in Facebook so I am now on Facebook 😅.
So I think I submitted my application last Sunday, November 14, and it would took five business day's before I will get their response and this morning I finally received it. But unfortunately as I am expecting my application got rejected because there's one criteria that I still haven't met, which is having 1000 followers in Facebook.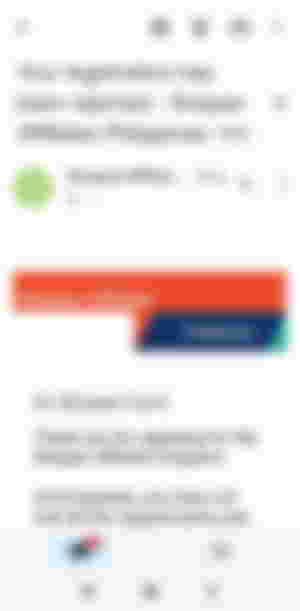 So today I was super busy. Like literally. I did my laundry this morning while cooking my son's meal. I also still tried to read some articles here, and still tried to do some interaction in noiseapp. I'm inactive there since last week, and that's the reason why I can no longer earn a penny there, but it's okay since I knew about my shortcomings.
Multitasking is my weakness, but today I would say that I did a great job since I manage my time properly. Oh not literally because I am not active in Hive and not in Blurt 😁.
Then because I wanna be eligible for the said affiliate program in shopee I spent some time in Facebook. I need to get more followers, so I joined different groups in Facebook. Joining a Facebook groups who's supporting each member to have new followers is really a big help to grow your account . Follow to follow is the main rules and loyalty.

So before this day end, I get 49 new followers from two groups that I joined. I have them in less than one hour, and even if they don't watch my reels I don't bother since my real agenda is not about reels and Facebook Star's. I know I don't have a chance to earn from reels so I am now focusing on my application.

Overall, I finally had 806 followers and I am almost there🥰. I only need 194 followers and I can apply again as an affiliate in shopee.
_____________________
Honestly gaining new followers in Facebook is actually challenging. Not everyone you followed will gonna follow you back. Not everyone who claimed that they already follow you is honest. Some of them are scam, and some of them would only follow you for a minute then they will unfollow you immediately that's the saddest part in Facebook.
Anyways this is all for today and thank you for reading. Please wish me luck so I can gain 1000 followers very soon.😁😘.
All attached photos are mine, screenshot from my Facebook account and Gmail account.
Lead image is from Unsplash.com by Dima Solomin