"A happy Sunday"
Sponsors of GarrethGrey07
Hello readcash fam. it's me again. How was your Sunday so far? I wish you all had a relaxing day. So far my Sunday was good. Though I still have headache, but I feel better than the other day..
So as usual we just stayed at home the whole day. I take some rest the whole day so my headache will subside and my eyes can rest too. Well I didn't spent my whole day without my phone as I know some of you have still seen me here yesterday, as I still read some articles and response to your comments in my article. I just can't leave a day without my phone😅, but I didn't stay for a longer of time.
Then yesterday morning after I read five articles I charge my phone and started doing my normal daily routine. Washing my sons feeding bottle, giving him his bath, cooking his food, drinking my coffee and play with him is my usual routine as I don't do house chores every Sunday. Mommy was home and every time she's home I only wash our dishes after meal's and she will do the cooking. Our house is just small and it don't need cleaning everyday, so at home we don't have much work.
In the afternoon while everyone is having their afternoon nap, I was just lying in our bed. I tried to sleep but I can't and so I just tried to fixed my hair using my hair iron but unfortunately no changes had happen 😂.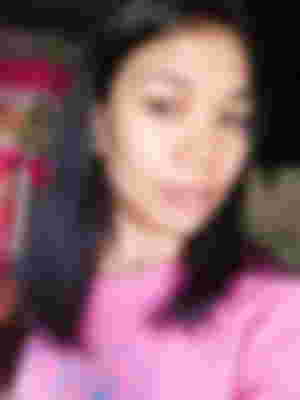 Disclaimer, thanks to my sons phone camera as I look fresh from this photo 😂😂. I was still charging my phone that time and so I use my sons phone to take a photo and voila, I look fresh and young hahahaha..
Moreover when they woke up, after their afternoon nap we went outside to have some fresh air. Yesterday the weather is windy and it's cold. Christmas is indeed approaching and so it feels so relaxing.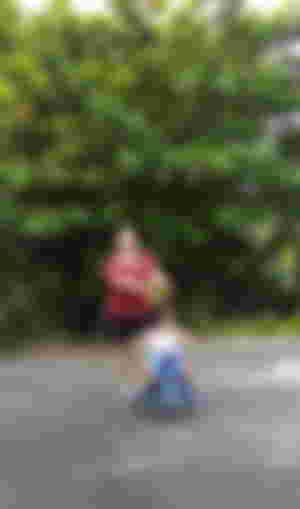 My son love's to ride with his bike, but up until now he's still afraid to use the pedal. So every time he wanna hop in we just have to push it to make it move and today, mommy is the one who's pushing it for him😅.
Then while we we're outside we heard our neighbor having a karaoke again. I said "again"because they always have a karaoke everyday, literally everyday as they love singing though they don't have a good voice hahaha just kidding but yeah it's true. Sometimes they sounded like they are just reading haha, I'm bad😂. So I asked mommy why she don't sing anymore since I knew that she also loves karaoke too. I asked her because maybe she is just hesitant because she was thinking about our electricity bills. Then she says she wanna try to use her microphone 😂. You see??
So we went back home and she started preparing her Bluetooth speaker and microphone. When she finish setting up she started searching for a song and started singing 🤣. She also invited me to sing and so we both have karaoke. I also miss singing and I really enjoyed singing with mommy though the microphone was bad hahaha.
I would say that my Sunday was good and I had some fun, because of our karaoke. I enjoyed singing.
This is all for today and thank you for reading.
All attached photos are mine or else stated otherwise.
Lead image was from Unsplash com by Jess Bailey