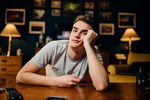 I know the first thing that will come to your mind when you see the topic is the popular John Bull song that we do sing in our nursery days. You are correct, let's begin;
"I have been reading this textbook for the past 6 hours and I still don't understand" - John exclaimed.
"Just relax, focus and don't lose concentration,you will still get it"- Daniel assured his friend
I will anyway. Daniel, Daniel, look at the babe,don't you see she is set and ripe for some task"- john called his friend out of eagerness. But Daniel refused to answer him but shook his head to signify a pity on him.
"I know you will not say anything,rubbish. Is it only you that is serious? See,I am no longer reading. Let me just try reaching out to this girl and talk to her"- John left in hurry to catch up with the babe.
John Bull continued with all these nasty attitudes and felt that's the way life should be. He didn't bother concentrating on his education and continued to pretend to his parents that he was in school busying studying. His parents keep sending him money for food and for things needed for his school and he keeps lavishing it for girls and friends.
During his exams,he did manover his ways by paying some lecturers and sometimes did copy from friends in the exam hall. All this he did and never got caught until he graduated from university. He graduated with a fair result and his parents were still happy that at least he didn't fail. It was time for him to look for jobs and have no idea on how to go about it,so he asked his dad how he was going to go about it and his dad put him through but remained the aspect where he would put his name. So his dad asked him to put his name and he was not able to,hmm.
How was that? He couldn't spell his name and that was how the song about john bull came into existence till today. The song goes thus;
🎶🎶🎶🎶🎶🎶🎶🎶🎶
John bull my son
I sent you to school
You don't know how to spell your name
Baba john bull 🎶🎶🎶🎶🎶
I forgot to tell you how he has been doing it during his school days. He has always copied from day one and do tell his friend to help spell his name. There was one time during test,he called his friend as usual to spell his name for him but there was no time as per the time was far spent so the couldn't help him. All john bull did was to copy his friend name after copying all his work already. Lols,that was funny right? I know it is.
We have a lot of John bull as friends and coursemates 🤣🤣🤣🤣🤣 too. Is just that they are different from John bull. They can spell their name but can they do without copying thier friends in the examination hall? Can they do without paying lecturers to pass them for a particular course they have failed to read and pass? The answer is NO,and that's why I said we have a lot of John bull as friends.
Don't be like John bull that's always after girls while in school and forget to focus on his studies. They have this believe that was trending sometime ago in my school that "SCHOOL IS A SCAM" and because of that they refuse to put all their best in it. Whereas those that are saying it are those having good grades in all their papers. Don't be fooled by what people say, but believe strongly in your purpose of coming to school in the first instance.
Disclaimer: All what I have written as John Bull story and linking it to the popular song we all know are all fictional story as there's no proof to show that the story was real. It was all fiction from starting to the end.
Hahaha🤣🤣🤣🤣🤣 you guys believed me right? Yeah,I know you did,you don't have to lie. That is the power of a writer,they have the power to captivate you into their own bondage. I think I have started saying rubbsh,let me just stop it here. 😒😒😒wo,I am just trying to be at my best in writing,not yet a good writer. I am sorry my article is not lengthy this time around,please take it like that.
Byee for now
21st July 2021