5 Way To Distress Your Wife
When we talk about stress, wives are always on top of the list. The moment a woman became a wife and a mother, she is always prone to all kinds of stress especially in raising kids, about financial and her mental aspect when they experience PPD (Post Partum Depression) or PPR (Post Partum Rage).
There are several ways to distress your wife, but I found an interesting ways to distress and a funny one.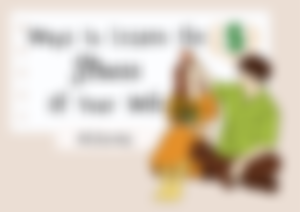 Image created in Canva
I bump into a Facebook post which talks about 5 ways to lessen the stress of wives. I find it very funny and half truth, because it all talks about MONEY! Yes, money.. who doesn't like money anyway? Especially if you are a married woman and you do all the budgeting stuff in the house, it always gives us headache when we are budgeting money that cannot fully sustain the needs of the family and our basic needs as a wife.
1. Give her money
When a husband gives her wife money for shopping, wether it's for the family needs or her needs alone it always lighten the wife's mood. It feels good shopping when a wife has enough money to buy the family needs much more when there is more money to buy the wants, especially her wants such as cosmetics, clothes and any other things she needs to maintain her health and glow.
2. Give her more money
Who doesn't like to receive more money from her husband? More money means more things to be bought or more things she can do such as budgeting the family's finances well. She can save for emergency funds, buy insurance, she can save for travels and spare some for investment purposes.
3. Put money secretly on her wallet
When a wife found money in her wallet that she's not aware off, it can give her excitement.. like "oh come'on is this a blessing?" lmao. Again, who doesn't like money? Wife likes money a lot, she can do a lot of stuff with money, so she'll surely enjoy and relieved her stress if she found more money on her pocket.
4. Ask her "You still have money" even if she didn't answer yet, give her money.
Asking your wife if she still have some money is kinda sweet, it means you care for her well being..lmao. I mean, you know there are some husband who doesn't give money to their wife, they just bought things needed in the house and does not care if their wife has money or not thinking, they already provided the family needs. It's always sweeter when a husband give an extra money for her wife aside from the budget needed in the house because woman has some basic needs that needs to be bought to maintain our sanity (e.i beauty products, vitamins, etc.)
5. Chat her "Why you didn't tell me you run out of money?" then give her money.
If you are faraway or in your job and you remember if your wife still have money or already runs out money, texting or chatting her will be another kind of sweetness.. as you are ensuring she still have some money. Giving her enough or more money can lessen her stress in thinking where to get money or how to budget the money left on her pocket for the family's needs and her needs as well.
This may sound absurd, it's not always about money but let's be practical, money can't buy everything but money can buy all the things we want. They said woman are into money, who would not? When usually we are the ones to do budgeting finances for the family, we budget money for this and that. One way to secure family's welfare is to provide all the basic needs and we can't do it without money that is why wives always likes to have a lot of money so we won't have headache budgeting.
Of course this will vary depending on husband's capacity in giving money, this is just a humurous way of distressing your wife but still it all depends on your wife. There are wives that are simple and not materialistic, if you found one then you're lucky but I bet most women likes to have a husband who has stable financial income so he can provide for the family's finances well.
I shared it with my husband, he reacted sad on my post because he's not financially capable when he is signing off from his job. I was just kidding him, he knows I was and he just laugh it off..but you know I was expecting he'll do it when he's onboard again haha! Kidding, we do give and take when it comes to finances, because that's how partner should do, to help each other.
If wife is full housewife and doesn't earn anything then it is understood that she can't provide any financial help, but that doesn't mean that the respect she get will be lessen.. it's not easy to be a housewife, I'm sure their doing their best to help and build a beautiful family.
First publish in hive: Ladies Of Hive Community