This day is one of the most special days in our family. The reason why because it is my Sister's Birthday today. I mentioned this just the other day. Of course, as soon as I woke up, I greeted her a Happy Happy Birthday immediately and kissed her on the cheek. I'm used to doing that every birthday of her. My family and I are not used to what they call "Salubong" where before your Birthday the family waits for it until midnight or twelve in the morning. And then they celebrate it.
Last night I was still awake at 11:00 pm and I even reached 11:30 pm because I was waiting for my Sister's Birthday so I could greet her at twelve and I was the first to greet her. But unfortunately I fell asleep when it was close to twelve o'clock. I was still waiting for that time and then I could just go to sleep hahhahah. So this morning when I woke up I just greeted her. I woke up late today because I also sleep late so I woke up at 9:00 am.
When I woke up and after greeting my Sister I went straight to the bathroom and then ate breakfast. I'm going to cook Spaghetti for Sister's Birthday because that's the only gift I can afford for her. I'll just cook her some spaghetti but I'll still ask our mother to help me. I bought that spaghetti ingredient the other day when I also bought the Mango Jam ingredients that I had already made. And some ingredients of the Spaghetti I just bought it today.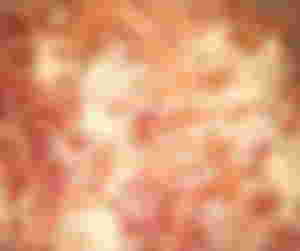 My Sister and her live-in partner left this morning to go to church and thank God for the new year in her life. Of course it's also time for her to roam and have fun with her live-in partner. Of course, my sister also met some of her friends since then and just ate at a fast food chain and she just talked to her friends because it has a long time that they didn't met and she also introduced his Live-in partner to her friends. After that they went home as well. And when they came home, the Spaghetti was already cooked. The Live-in partber of my Sister bought a cake but my Sister's live-in partner brought it to their house so I didn't get a chance to take a picture of it, but it's okay hahahhaha because they are the one who bought it then. Then they just brought us a few slices of cake in our home and we started eating. Oh I forgot that we sang the Happy Birthday Song to my Sister firts before we started eating.
But I didn't just cook Spaghetti today because I cooked again another food for one of my projects. What I cooked was Spicy Dilis. If you noticed that what I cooked the other day was Mango Jam and now it's Spicy Dilis because our topic is all about Food Processing, so the ones I cook are processed foods. I decided today to cook it even though the due date to pass it is on Friday because I don't have time to cook it Tomorrow (Monday) and the next few days (Tuesday-Friday) because I have an online class and I have many other things that need to finish and needs to be passed so I told to cook that today.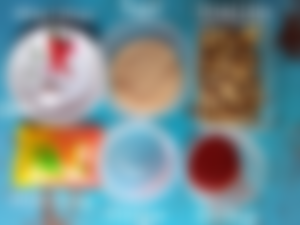 Spicy Dilis is also simple to cook. And you only need a few ingredients to make it. Dried Dilis, Ketchup, Sugar, Vinegar, Siling Labuyo, Salt (to taste) and Oil (for frying), that's all you need to make Spicy Dilis. The procedure for making this is to just put Dried Dilis in hot oil and mix it until the Dilis becomes crispy. When it is already crispy, drain it from the oil and let it cool for a minute. Then make the syrup, in a frying pan combine the Sugar, ketchup, Vinegar, Siling Labuyo (Dice) and Salt, mix it, then just turn the stove on high and don't mix it anymore and just wait it to boil and thicken. When it is thick, you can add the crispy Dried Dilis and mix it until the syrup coats the Dried Dilis. When the Dilis syrup has coated, turn down the heat of the stove and stir until the syrup is dry. When the syrup is dry, take it out and let the Spicy Dilis cool before putting it in the packaging.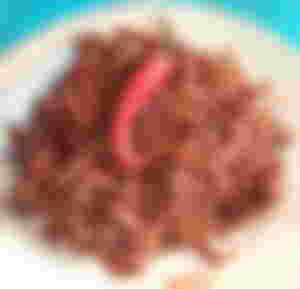 And that's how easy it is to have Spicy Dilis. Wouldn't it be easy to do this one too. And when it is already cool, I tasted it and it was really delicious. It's like the ones we used to buy in the store before, the one that is wrapped in small plastic and cost only five pesos each. You can also try to do it in your own home when you have free time.
And that's all for today. I also did a lot today and it seems like I only have a little time to rest but that's okay because it's worth the effort because I cooked delicious foods. Hahahha. Hope you enjoy this and see you again.
Thank you very much for reading, I hope you do not get tired of reading my works. Thank you for your support and trust in me and my articles. Thank you again.
I would like to thank my Sponsors who are so kind and generous. Please visit and read their articles when you have free time. Their articles are also very beautiful and you great so will definitely enjoy reading. And I also want to thank the people who always read, comment and upvote my articles. Thank you very much too. And may you all be blessed for your kindness and goodness.
Thanks for reading this.
Keep Safe and God Bless us always.
Don't Forget to Be Nice and Be Good to Everyone.
Bye.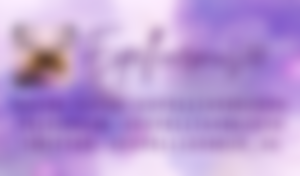 Lead image source: Unsplash