The boy trapped inside the refrigerator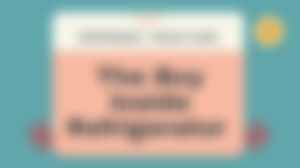 Natural calamities have been hitting us and it continues every month.  Recently, typhoon Agaton hit the Eastern Visayas and Northeastern portion of Mindanao. One of the cities received heavy damage is Baybay City, Leyte. The whole city has severely affected due to heavy flash floods and landslides. Watching the news about the affected family really hurts.
I read some articles related on the typhoon. We know that some of the users here are also severely affected by the typhoon Agaton. They wrote and published how are they and what they did during the storm. It is heart-breaking to read that some of them struggled because it is the first time their area was flooded. But let met tell you a unique story of a boy who survived the landslide.
According to U.S Global Survey, landslide is defined as the movement of rock, debris, or earth down a slope. Meaning, it is an event when the rock or debris falls down and surely whatever kind of things below will be covered by it. The slope movement has five movements. They are falls, topples, slides, flows and spreads. It is very dangerous if the landslide happened when there are various houses below. This will be creating indefinite casualties to the families and their livelihoods.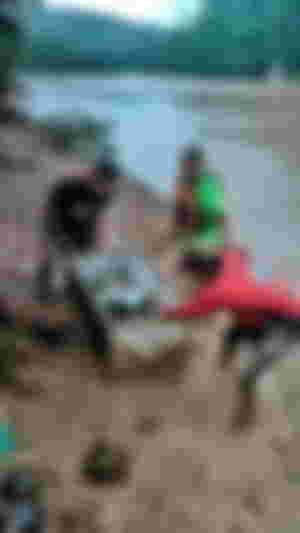 In the busy days of retrieving dead bodies of Philippine Coast Guard due to the fact that many people was dead and missing. They kept trying and trying to save and seek as many people as possible. There are families trapped in their house because they didn't expected that the water will soar high. In their case, they have no choice but to stay at the top of their roofs and wait for help.
In the middle of body retrieval of PCG, they found a refrigerator. They retrieved many tools and appliances, but this is one is quite heavy. The refrigerator is closed so there will be no mud or water inside. When they opened it, a big surprised is waiting for them. They found a child boy inside. It was wasn't named yet and hasn't been confirmed what the child's name is.
The child spoke for the very first time and he said, "Gutom ko kuya" or "I am hungry brother" translated in English. The boy was stocked inside the refrigerator with no concrete days. SF02 Romulo G. Mascarinas, one of the personnel assigned to take care of the boy asked if where's his parents. The boy answered "Ako na lang, wala na koy kauban" or "It's just me, I don't have anyone with me" translated in English.
Based on the report of Baybay City Fire Station – Northern Leyte, the boy lost his parents during the landslide. It was unfortunate event to lose both of your parents at the same day. The boy's village was covered with thick due to flash floods. Although, the boy was happy because he is alive and recovered from the flash floods, but he was mourning from the passing of his parents.
Based on the National Disaster Risk Reduction and Management Council (NDRRMC), there are 407 flooded areas in the whole regions of Visayas and Mindanao. In addition, there are 6 flash floods and 43 rain-induced landslides. Meaning, what we saw and read about the incidents happened because of Typhoon Agaton is much wider than we thought.
I am truly sad that there are about 237,864 families affected or 688,539 persons. Can you imagine how many people are severely affected and some of these family loses their homes and worst, family member(s). There are about 1,129 barangays in Region 1, 5, 6, 7, 8, 10, 11, 12 CARAGA, BARMM, and CAR that was affected of the said typhoon. Unfortunately, 44 are dead, 8 missing and 8 injured based on the latest report.
As per the report, there are a total of 69 cities/municipalities who experienced power outage and we know some of users here experienced it as well. Thankfully, there are some cities which have had power restored already. Such a huge mess the typhoon left in our country. It was truly heart-breaking to see that every storms there are families wailing and mourning because someone died. All of these are natural disasters, but went extreme because of climate change.
I hope we took an inspiration about the boy who found on the refrigerator that survival is what we need the most. In order to survive, we must take care of our environment now. You are not the only one who will be affected, but your family, friends, and relatives. Everyone will be affected. At last, I was happy for that boy because he had a high instinct to go inside the refrigerator and locked himself so that he would not die because of mud and water. It is still a wonder how he survive without enough food and oxygen inside it. Let's just say that it is not his time yet. Truly, the Lord is an amazing and merciful God.