The Return after a Month
The title seems so funny to hear but it's nice to be back here after a month. I'm so procrastinated to write everday, I don't know why. However, the challenges of this life truly push me to eager try every opportunities. Also, I miss writing articles every 2 days, it's like a part of my system. I miss being active and interacting with my virtual friends here, that's why I came back here with eager to start again. It's been a tough month for me, our class already started and it's on full face to face, it's tiring since it's all evening class, it starts at 1 PM then ends at 8:45, the things I do before like grinding on NFT game and active on noise got change due to being busy.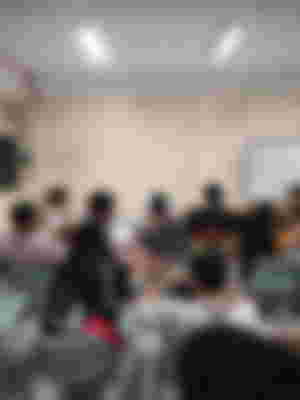 Also, I had lots of things to share with you from the start when I didn't publish here. I am happy to be part of life of my friends, I have lots of friends and bestfriends, usually my BFF are all ladies which I cared a lot. I treat them as my sister that's why I want to protect them in accordance of my capacity. One of my friend is my neighbor which is a introvert and rarely go out, she is my bestfriend but we rarely talks, it's a type of friendship which we prefer to be silent. The last time we have bond is last 2021 and a few weeks ago, I was surprised that she responded to my invitation to have a jogging and she said yes. We jogged to BGC and we have 10 percent jogging and 90 percent walk.
It's nice to have conversation with her, we talk a lot of things about life, she told me events happened in her life for almost a year. Actually, she is my crush, I don't know I like her in an instant cause she's very cute and kind, also she's caring and knew a lot of household chores. I can feel her sadness, I don't know but it's me who knows a person having breakdowns, in that moment I have talks with them and ask the status of their mental health. In side of my bestfriend, she had lots of breakdowns due to problems and pressures, but I let her feel that I'm there to comfort her. The thing I really like about her is she's not a type of girl who wants being treated, unless she loves to have sharing or she will treat for now then me for next bonding.
When we are at BGC we feel hungry that's why she treated me at Chowking. We talk a lot of things until I found out that she already had a date with a guy and I feel sad but didn't show it. Actually, I'm emotionless everytime I'm with people. You can't distuigish the difference of happy, sad and anger since I'm always calm in any scenario. However, I felt happy when she said that she lost her interest in dating. Dunno if I'm bad a person or not hahaha. Anyways, I'm so busy in school to the point where I focus on too much. I don't know why I'm so focus on my study right now, I made a proposal on our thesis but it was rejected however, our professor proposed a new study for us and we grabbed it. That's it for now guys, sorry if it was messy since I don't know how to construct articles again.
This afternoon, we have online class again and we will take our major subject in microprocessors, right now we are stressful due to thesis, our major and minor subject. Another thing is I'm so broke right now, really there's nothing on my wallet even penny. However, I survived each day since my house is near at my university and I bring biscuits to munch inside the campus.
Sponsors of Codename_Chikakiku