Blog #93
December 10, 2021
Being in love is a nice feeling a person could feel. It makes us more inspired every day.
---
I met you in a complicated situation. It complicated in a way that I am a single mom and you were a guy who didn't move on with his ex.
When you said that you wanted me in your life, I rejected you many times coz I doubted your intentions. I still remember when you let me see the picture of your ex-lover. She is beautiful and that made me question myself if you are really serious about me or not or you just wanted me to be with you while she was far from you. I knew you broke up a month ago before we met and I also know you were still waiting for her to come back.
But as time passed by, I saw how you cared for me. You never forget to check up on me whenever you are not busy with your work and you even stay late at night just to text me if I am done with my work.
Slowly, I admitted to myself that I am falling in love with you. Whenever I read your messages, I smile out of a sudden. I wanted to hear your voice everyday coz it calmed me.
When I told you that I was having a dark past, you never hesitated to help me get through with it. You cheer me up, you make me smile and you support me. You accepted me for who I am.
"Think Positive", this was what you always told me. You became my daily inspiration and motivator.
"Ignore the words from others", this was what I learned from you. Before I get easily affected by others' judgment and criticisms but today I learned to ignore that coz as you have said, this is my life and they have nothing to do with it.
"Don't worry about tomorrow, God will never abandon us. Just have faith in Him". Whenever I am feeling hopeless, you encourage me that life will be better someday, I just have to trust God's plan for us. You never failed to remind me that everything will be alright.
---
I like it when you're jealous. Your jealousy makes me feel that you cared and love me. We may have misunderstandings but you never let it last long. Whenever I am mad at you, but when you called me " Mommy" and hug me and say sorry my anger meltdown. I don't know why but I can't stand being mad at you for so long.
I am thankful when you scold me for the wrong things that I did. I am grateful because you always remind me to think before I make decisions. Think if it could be beneficial to us or it will just worsen our situations.
I have so many imperfections and flaws and you too, but it didn't stop us from making this relationship stronger.
---
You said we won't celebrate our birthdays but when our special days come, you find ways to celebrate them. It may not be so special but we appreciated it much.
We appreciate all the efforts you did for our family. Make us your priority always. Whenever you worked far away from us, you always made time to remind us what to do. You always think of our safety.
Your principles in life are what I always admire in you. Your positivity, kindness, and being a family-oriented man are what I am thankful to God.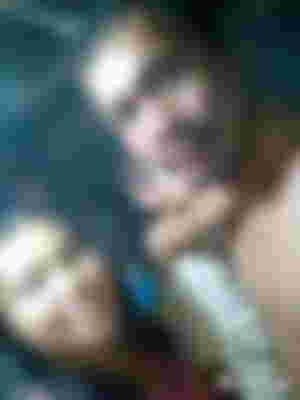 Our life is not the same without you. You bring colors to our life and we are blessed to have a man like you in our life. May God protect you always. I love you and know that we always do.
I remember when I started making noise In noise.cash, he scolded me because I was too busy with my phone but when he knows that I am earning to help him financially, he then supports me. He took pictures so I could have something to share and post in noise.cash. Whenever he bought foods like fried chicken, halo-halo, etcetera, he would say, "You take a picture of these first before we dig in". How amazing it is. 😍🤗
👩‍❤️‍👨👩‍👦‍👦💖💝💓💗❤🧡💛💚💙💜🖤👨‍👧‍👦👩‍❤️‍👨
Flexing my generous sponsors, thank you so much for the love 💟 and support🤝. I am blessed 😇 to have you til now.
To my sponsors who renewed their sponsorship and to the new ones, thank you so much. Thank you for making my first week of December happy and blessed.
To my upvoters 💰 , commenters 📝, readers 📖, and likers 👍 thank you so much, guys. You always make me motivated and inspired every day.
This is me, 🧕BCH_LOVER 🧕once again. Thank you for your time today.
God bless and Keep safe you all!
Before leaving, please hit the 👍button. Thank you so much!