This is How We Celebrate CHRISTMAS Eve.
Before we will go to our main topic, I just want to Greet Everyone a MERRY CHRISTMAS!. I hope that everyone is enjoying today. Here in us there are so many people exchanging gifts, singing Karaoke and other fun things.
So yesterday exactly 1:30 O'clock in the afternoon, my mother said that I will be the one cooking the Fried Chicken and making the Mango Float. That was my first time cooking bulk of friend Chicken, I little bit afraid because I doubt myself not to cook it perfectly. The first thing I did is to Marinate the Chicken, put some Lemon, soy sauce and pepper. I marinated the chicken for almost 2 hours.
While the chicken is marinating, I prepared the biscuits, Crushed grahams, condensed milk, and the mango. I am the one make the Mango float dessert and without any assistant I make the mango float. That was my first time making mango float dessert, I thought I can't make it perfect. But I am so happy when my family taste it because I received so many compliments thag my Mango Float dessert is so delicious and yummy. They said the taste of the sweetness is balance and that's what they want, not to sweet.
After successfully make the mango float dessert, I took a rest for 30 minutes. After 30 minutes, I started frying the Chicken. I am using wood for cooking because we are saving our gas stove. It tooks 1 hour before I successfully done the Frying. And yes I am so happy because I perfectly fry the chicken, I achieved what the result I expected.
After preparing and cooking all the foods, we decided to eat our dinner. It is 8 O'clock in the evening. I said that we need to take a picture before we start eating, I want to document what happened in our Christmas in the year 2021.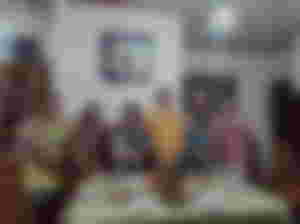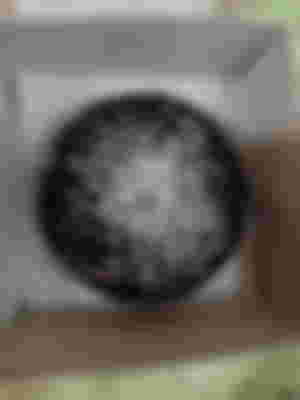 My elder sister bought a Chocolate Moist Cake and it was delicious and yummy, it cost 250 pesos or $5. I haven't put any decorations in the cake because I didn't expect she will other a cake.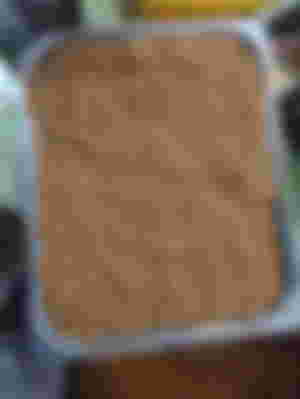 This was the picture of my Mango float. And I want to share to all of you this. Mango Float dessert is really delicious and yummy. Don't be shy and get some of thi, hahaha. Sorry for not taking picture of my Friend Chicken because of busyness, I forgot.
After we eat out dinner, I am the one who wash the plate hahaha. I am enjoying washing our plates because of unlimited water from the faucet. I don't have any problems when it comes on washing, as long as there is Unlimited water.
When the Christmas Day came, 12 in the midnight to be exact. We open the May Wine, this wine doesn't have alcohol and I am allowed to drink this. Cheers Read Fam.
Maybe I will end this article because we are about to go in the beach together with my cousins. Let's have some fun and enjoy this Christmas. There is another occasion we will be celebrating which is the New Year.
Merry Christmas My Dear Sponsors
Thank You For Reading!