Think About It, Deeply.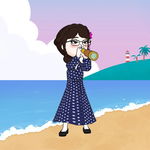 I'll be flying home for real tomorrow morning. I'm excited while Madam is not. She is even sad about it. She keeps on mentioning that I can come back anytime if I want to. It's evident on her face and the tone of her voice that she is sad seeing me leave her. If I don't have a child yet, maybe I can stay here longer without thinking of going home but the situation is different now.

My child needs my presence as she is growing up also. She is that hard to handle in her age now, what's more when grows older? Another thing aside from my daughter, I also have to claim my documents from my previous school, so I can take the entrance examinations on College. I want to enroll in College this school year. I want to continue my mother's dream for me as long as I can do it.

Anyway,  I'll be waking up early tomorrow,  so I just want to relax for now. I can't be that absent-minded at the airport. I have to be alert to watch on my belongings,  so I can't stay up late for tonight. But I wouldn't want to miss publishing an article also, so I'll just be answering some random questions to finish writing this faster.

I found this on Pinterest, so if you want to answer of these questions, too, just refer to this link. Without further ado, let's begin.
---
The only regrets I have would be not making it home to see my child and my family first. If I die, I wanted to see them once again and gave my last wishes for them. I would also regret not completing the trust fund for my child. Also, not having any burial plans before dying. I don't like it to leave this world that I would leave my family with problems.
Spiritual,  maybe since I'm not a devoted member of our religion. I haven't even went to our Church to attend mass for 6 years already. But I do pray and always thanking God.
As of now, Yes! It's evident with my actions. I'm often into positive things right now unlike before. I'm also avoiding negativity and I'm teying to hit goals now unlike before that I don't have any plans for my future. I'm even thinking what would I do with my life for the next five years if my anxiety triggers sometimes. 
---
The big day is coming. I have to relax from this excitement for now. If I can't handle it, I can't sleep with this. Also, my left arm is already numb from writing but my right arm is still okay. Maybe, it's because I'm often using my left hand to grip my phone. Well, let's rest that, then. If you ever feel like answering those questions also, just don't hesitate to visit the link provided above to know more random questions.
Thanks for reading! Lead Images edited from Canva

You can also find me at;