Things To Dream, To Fear, And Procrastinate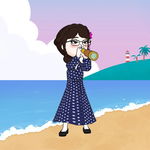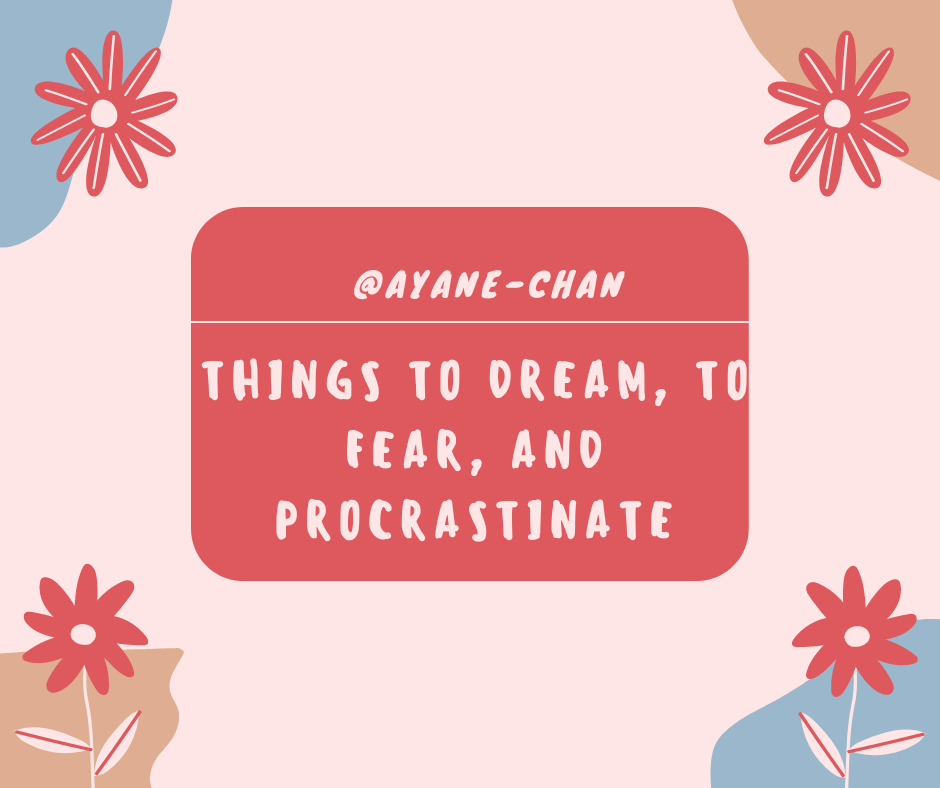 Howdy, readers!
I have been stuck in school stuffs and other side hustles again. Time management is difficult to do when your undiagnosed mental issues greets you every morning. You wanted to be an early bird and be productive every day but it turns out the other way around. I don't mean to procrastinate over and over again but sometimes my body just won't do whatever my mind says. It's hard to stabilize your emotions, just then you could get back to your normal self again.
I'll be always thankful to these random questions that I found on the internet for saving me often whenever I can't focus to writing. It helps me gain an idea without exhausting more my already exhausted brain. Sometimes I feel burn out though I haven't done much every day. Maybe, it's just some kind of laziness or just a lack of motivation. whatever the latter maybe, let's start.
Honestly, I can't remember any of it these days. Maybe, it is the results of being exhausted from everything. I just fell asleep after a little while whenever I lie down. I dreamt of some things but it was all messed up and incomprehensible. As soon as I woke up, I have forgotten them all already. Even my imaginations were tired also, I don't have some of it for the past few months.
This happens since I started studying in college which was last year. Unlike back then since elementary to high school to when I started blogging while working a day job, I can dream of some beautiful things and write it afterwards as soon as I wake up. I even have managed to write my full experience in a dream here, which I once thought was real while I was still in it. Here, in an "Excerpts from my mind: The Witness", I had creatively narrated a full story that took place in my dream months ago. It was somewhat scary but having such bizarre dreams once in a while is an amazing thing for me.
Yet now, I can't have that while I'm stressed over a lot of things. I still haven't mastered the art of living with the pressure; that's why I still get affected by these worldly problems. Somehow, I missed those times wherein my only focused was into writing stories and that's the only thing that I should think about.
At a young age, my fears were not about those supernatural creatures that people spoke of to scare the children, not even about losing toys or friends. I'm born in a family of farmers and we don't have a lot while growing up. That's when life started waking my eyes up to the reality and made me think of more mature things than my age. My only fear since then was how to get by when I grow up and up until now that I'm a grown woman, the fear is still the same.
I know since I was a kid that my parents couldn't support us forever. We have to take the responsibility of taking care of ourselves and the rest of the family, and to our future family. My parents could barely support our studies and I'm insecure about my skills. I'm not confident of them and think that I'm a mediocre. With this case, the question really is "How to get by?"
I found a way to get by and survive by taking advantage of my skills in writing. It is how I make money to pay my bills and make up for all of my expenses for now. Aside from this, I don't know how ways anymore. Then, that's why I study again and trained some new skillset. However, I still have a long way to go before I could make use of them to generate a new income stream. By then, I hope blogging could help me get through.
Mostly, everything. It's true. Not that it's a habit but my productivity surely depends on my mood. I'm not emotionally stable to be honest. There are times that I'm hyper, and there are times that I'm down without any reasons. I just feel it's heavy weight like it's a part of my irregular hormones. It sucks to have this kind of mood swings because it lessens my productivity. If that happens, I can't get myself to do anything. It's either I cry it out or I'll sleep until I'm fine and back to normal. And there after that, I can proceed to my task.
---
That's all from me today, folks.
Having a writer's block, out of a new interesting topic, or you don't have much time to compose your blog? Here's a suggestion, you can answer some random questions also, just go to The Random Questions Generator, input the number of questions that you want to answer, and voila, there they are! You can also just look up for some random questions on the web and you can get a lot of ideas.
Thanks for reading!