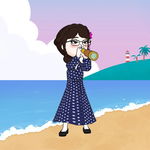 I just finished work tonight because the boss asked me for overtime. I can't refuse so I agree. It's now 10 pm. I get off the bus to a small waiting shed in the corner which is the way that my home is headed. There's no tricycle at this hour so I have to walk. No worries, it's just a 20 minutes walk. I have been walking this since I was in high school, that's why somehow I've been used to this long walk.
I'm not bothered or scared to walk here at this hour since there are many light posts here and I know most of the people living here. In the distance, I hear two men arguing. I can't hear clearly what they're saying but I do recognize the voice.
It's Mr. Perez and his son.
They are always like that. It's widely known to our place. That's nothing new to us here anymore. The son becomes a drug addict and Mr. Perez regrets having him as his son so he kicked him out of their home. However, the son keeps coming back and oftentimes asking him for money. Mr. Perez often refused to give him and that's why they always argue. I'm just a few steps away now from their home which is located just a few meters from the road.
"WHY WON'T YOU GIVE ME? YOU ALWAYS HELP OTHER PEOPLE BUT ME! I AM YOUR SON!", exclaimed his son.
"YOU'RE SUCH A GOOD FOR NOTHING SON. YOU ARE THE BAD LUCK OF THIS FAMILY! GET OUT OF HERE AND NEVER COME BACK!", replied the father.
Both of them are throwing daggers at each other. None of them have lowered their pride, give respect, or admit their mistake. What a dysfunctional family!
"GO TO HELL, YOU GOOD FOR NOTHING DRUG ADDICT!" Mr. Perez kicked his son out of the door. I slowly walk so they can't notice me. That addict will surely ask me to lend him money instead since his father refused.
"YOU'RE THE ONE WHO SHOULD GO TO HELL, YOU STUPID OLD MAN!" In just seconds, the drug addict son takes a knife out of his pocket and stabs his father multiple times. Mr. Perez is screaming in pain while he continues stabbing him. "DIE, YOU GREEDY OLD MAN!" He yelled while still stabbing.
I put my hand in my mouth completely shocked to see this kind of real-life horror. It's so gross to see Mr. Perez bathe on his blood and it is sprinkling on his son's face. Ugh, I almost puked. This is crazy, he is crazy! I should get out of here while he does not notice me yet. I silently take off my shoes and shove them into my bag. I zippered my bag, take a deep breath, then RUN!
I run as fast as I could passing those light posts one by one. I don't want to get involved with them. That's too ruthless. Stabbing your father, that's too brutal!
"HEY, YOU PRETTY LADY! I SAW YOU! STOP THERE! LET'S TALK! PRETTY LADY, WAIT!" Da**it! He caught up! I don't want to get involved with a crazy man. I doubled my step and run as faster as I can. There are houses on the right side of the road.
I need to get help!
"PRETTY LADY, YOU SAW IT, RIGHT? I WON'T LET YOU GET AWAY! YOU HEAR ME! YOU'LL TELL THE COPS!"
Of course, I will! Just wait 'til I can get help here. I run to the right side. I hope he doesn't see me take turns since there is a huge tree of mango in the corner. Hugh! I'm panting and it's getting worse. I'm going to lose my breath at any minute. The lights of that houses are still on. Good timing! God help me!
I knocked as harder and as many times as I can screaming, "HELP! PLEASE HELP ME! THE ADDICT WANTS TO KILL ME! PLEASE OPEN THE DOOR! PLEASE HELP!"
The door quickly opened and I fall to the floor. They immediately closed it and turn off the lights outside.
"Hey, are you alright? What happened to you, dear? You look pale," an Auntie asked patting my back. I can only cry in relief seeing that I'm safe.
"Hush, hush now! You said the drug addict wants to kill you. He might hear you when he caught up. Son, quick! Get her a glass of water," she ordered her son and he obeyed. I still can't help myself to stop crying. I can't stop panting, either, and my hands are trembling in fear.
"Here, drink this to calm down," her son offered me a glass of water. I'm shaking when I receive it. I drink it and have calmed down gradually.
"Thank you, Auntie. I could have been dead if you didn't open your door," I said while wiping my tears and sweat.
"That drug addict, you said. Is that Mr. Perez' son?" The Auntie asked.
"Yes, that's him!" I confirmed.
"What happened? Tell us, why would he want to kill you?" Auntie's husband appeared. "I have doubled check our locks, just in case." He added.
"I have overtime at work, so I didn't catch the tricycle's last ride, so I walk. I passed through them arguing, and he suddenly stabbed Mr. Perez multiple times. I got scared that he might turn at me, so I run as fast I could to get away but he noticed it. He caught up with me and continue chasing me until I get here," I finished the water and let out a deep sigh.
"That Psycho killed my brother! He's such a crazy good-for-nothing lunatic! Where's my gun? I will kill him!" Auntie and his son calm the husband.
So, he is Mr. Perez's brother.
"Let's just call the police! Who knows what crazy things will he do to you. He's crazy right now, and getting crazier!" Auntie said keeping herself from panicking though she's nervous, obviously from her voice.
"Son, call the police and notify the neighbors!" The auntie ordered while patting the back of her husband who sits in disbelief from his brother's death.
"Got it, Mom!" The son immediately dialed and called the police station, then texted the neighbors after. "The police will be here in 15 minutes. They said we should maintain vigilance and tell the neighbors as well." The son instructed, sighing to calm down. Then suddenly,
"AUNTIE! UNCLE! IS THE PRETTY LADY THERE? LET ME SEE HER!" he knocks and knocks and not stopping.
Damn, he knows that I'm here. What should I do? My heartbeats are racing from fear and having goosebumps all over.
"Don't mind him. The police will be here in a minute. No one should answer him," the husband instructed.
"AUNTIE! UNCLE! LET ME IN!"
He keeps shouting from outside and knocking on the door relentlessly outside for many minutes. As the husband has said, no one has answered him nor opened the door. The neighbors also had responded that they already did safety measures on their homes and remain vigilant until the police arrive.
Suddenly, he screamed. We hear something that falls to the ground and some voices of people in a fuss. After a while, a police siren uproared the whole compound.
"Ma'am, Sir! The area is cleared. You can open your door now!" A man's voice has called. We all sighed in relief. The husband walks first and opens the door. There he was that drug addict being pinned on the ground by 2 policemen.

I woke up at 3:33 am, just this morning after I dreamed of this. I felt like it was real and I can't forget about it until now. I keep wondering then, why would I ever dream of that? Of all the scenes that I could dream of, I have dreamed of murder. After a while, I have thought it through. Anyhow it is a good plot, then why not write it down. It saves me a day of thinking about a good topic to write. I also think that I should make this my "Excerpts From My Mind" kind of series. I hope I could dream of another one again tonight. Why not?
Heya! Thank you for reading this article until the end. As always, thank you to all of you who like, support, and upvote this article. May God bless all of you more for your kindness and generosity.
Stay safe, boost your immune system, follow the protocols, be healthy, and be happy!