Your weakness can become your strength, one day....
Every servants has his strengths and weaknesses. Have you heard the story of ten year old boy who didn't have an arm and was sent by his parents to learn judo? He didn't have one arm so he had his weak point but his other arm was his strength. His master practiced him just a single stroke. He defeated his six contenders with just a single stroke. The others kid use to make fun of him but can you imagine this kid won the final because of his one arm and one stroke.
The point of the story is that when that child can make his weakness strength , why can't we?
I have also seen people who do not have both arms but work with their feet. Mostly people paint with their feet. And they are not a small artist. Many of them are international artists.
My uncle who has died couldn't see. But he has memorized our Holy book QURAN. Because he was interested. Many people told him not to do this. Because he was blind and he cannot see. But he didn't give any answer to the people then he did it to the people. And he showed them that nothing is impossible. He didn't let his weakness remain a weakness but made it his strength. But sad he is no longer with us because he died. May Allah grant him high ranks in paradise Ameen. I wrote an article on his death. If you want to read that article, then here will be link:
https://read.cash/@Ayaan258/death-the-end-of-life-2ca41430
Man should never be disappointed. We can make the impossible possible. We can make our weakness our strength. It doesn't matter what people say. We do not have to answer every question. Listen to the people but do what your heart desires. Sometimes we feel that we are weak and blame to others but we never know that our weakness can become our strength. If a person has a disability, he should never feel bad. God has thought very well of man. And such people are motive for many people. Muniba Mazari who can't walk but today she has a big name in Pakistan. She is a very good motivational speaker. She didn't allow her disability to become a weakness. She inspires a lot of people today. She says that if she hadn't had an accident and she was not in a wheelchair,she wouldn't be a good motivational speaker today. She too was an ordinary girl whom no one knew.
Yesterday I saw a picture of a girl on Facebook which I want to share with you. Her hands didn't work, but she didn't herself to be lost. Can you see the smile on her face. Just a Priceless smile. That's the spirit of this girl. Allah bless this girl.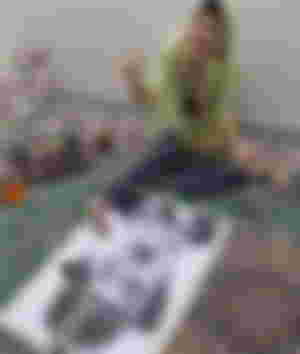 So never hate your weakness. No one knows when it will become your power. Just live your life and fill it with a great smile.
I think it's enough for today. May be you like this article. Thank you for your precious time. I really appreciated. I hope guys spend your day with full of happiness and prosperity. Don't forget to help others because this small act makes your day peaceful. Happy Thursday to all of you guys.
This article written by me and yeah it's 100% unique.
Don't forget to read the articles of my beautiful sponsors. You must learn and gain some knowledge from their articles. Thank you so much my dear readers and sponsors. You encourage me to stay here and write articles.
Stay happy, stay safe and stay healthy. Have a blessed day guys.
Peace .....