The best part... All objectives were achieved. Part II
Oh, I know it's January 01, 2022, but I haven't been able to update you on read.cash, I haven't had electricity, internet or signal, the services have been very bad during these dates, it's really sad, but I'm taking advantage of the fact that I have electricity right now to be able to publish.
Thank you for waiting for my article and I wish you all a happy year 2022. I hope this year is full of success and good health for everyone.
As I told you in the previous article, Luis and I were running to buy gifts for everyone, the best thing is that all the gifts could be bought, except for the baby, but I hope it can be bought soon.
Not only were we running to buy the gifts, we were also running to buy the ingredients for the food. In Venezuela we have a traditional Christmas dish where we eat hallaca, ham bread, chicken salad, pork leg and then we eat Christmas cake. In each region the preparation of the hallaca is different, even in the same family, there are people who add olives and other people who do not, and so with different ingredients or with the preparation of stew, each person does it as they like. However, I leave you the preparation that my family makes.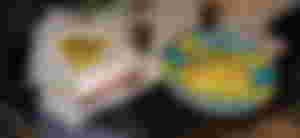 I have learned from my family that you have to buy all the ingredients before and make the hallacas days before the 24th, but this year I will spend Christmas with Luis' family and they work differently, they always wait until the last day to buy things. In spite of everything, they had not organized what we were going to have for dinner, so Luis and I had to meet with them and make a list of what was going to be bought, then divide the money so that we all paid in equal parts.
No one could go out and buy things, the only ones who could were Luis, his sister Rosa and me. So we ventured to the market to buy things. The market was full of people and the prices were super expensive, so we had to walk a lot over and over again, until we got the best prices and the food was of good quality. We bought onion, banana leaves, wicker thread, everything, absolutely everything we needed for the food.
I was very afraid, because my sister-in-law is pregnant and as far as we know it is a very risky pregnancy, so I was afraid that someone would hit her, because there were many people and there was not much space to walk around.
This year we changed the tradition a little bit because we did not have enough money. We bought everything we needed for the hallacas, but we didn't buy ham bread, it was expensive, we didn't prepare ham bread, we didn't eat pork leg. But Luis' sisters bought 3 chickens. Two chickens were baked and the remaining chicken was in the salad. We did not prepare the Christmas cake, we changed the recipe, we made the carrot cake that Luis learned to make before.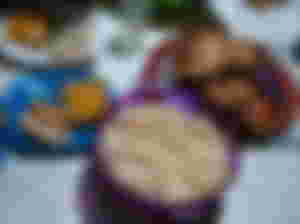 In spite of all the inconveniences we were able to buy all the ingredients for the hallacas and the salad which was the most important part of the meal. We were also able to buy soda and rum for a toast.
Luis' family doesn't add potatoes or eggs to hallacas, but my family does, so I suggested adding those ingredients and they liked my suggestion, so this year his hallacas had potatoes and eggs, yummy.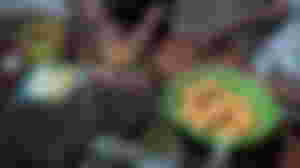 In Luis' family there are 3 people who make the hallacas, one person stretches the dough, another one adds the ingredients and the last one closes the hallaca. Last year it was my turn to bind hallacas with Hernan, but this year there were more people tying hallacas, so I could only tie one hallaca.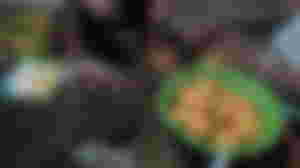 In my family my grandmother and my mom do the whole procedure of the hallacas, from stretching the dough, adding the ingredients and closing it, my dad and my brother are dedicated to tie the hallacas.
This is all my article of December 23rd, I hope you liked it, soon I will upload the article of December 24th and so on until I can update them completely.
I hope you had a great Christmas and are having a happy new year 2022. Remember you can stop by the articles of my wonderful sponsors. Bye bye, kisses
See you in the next article! ❤️ 
All content is original
Information obtained from the web is indicated.
The photos were taken by me or Luis, I have permission to use them.
The drawing was painted by me in Photoshop.
Greetings from Venezuela😊❤️