In this day, we can't easily fo in place that you want to go. In this pandemic, I can't go in the mall or in our grandparents house because I'm students and i need to stay in the house. I just go outside when I'm got sick because i need to go in the doctor. But actually even before that there's no pandemic, we can't also go everywhere because my family don't have a budget for that because the salary of my father is only for our everyday food. I miss so many places that we visited before but we can't do it again because of financial problem.
Before, we go in a sea me and my family and also our church mates. Our church members invite us to go in the Re'al Quezon to swim. We just ride in the truck because we are many. We leave our house around 6:00 am because we wait our other church members. I remember that I'm so excited that time because first time to go in the sea🤣. I wake 3:00 - 4:00 am because of super excited. I also prepare my things even it's too early to prepare it. Lol.
That place is so fresh and so beautiful. We stay in the "kubo" and sleep there. It's so fun to swim in the sea even i didn't know how to swim🤣. We just hold together and wait for the waves and jump. One time, i drink a water in the sea, I'm not intention to drink it because i know some people jingle there and also me, i also do it because the bathroom there have a too many people.
I don't remember the time that we go there but i think it's too many years past. I already miss it 😟.
This is my first time to have a long ride that we didn't change a vehicle. All my family are all there and also our church members. There's a youth camp there and our church are invited. We just need to pay 50 pesos each for the transportation back and forth. It's a long ride because we are in the bus in 5-7 hours and just already there around 5-6 pm? I remember my parents just have 200 pesos so we can't buy a food when the bus stop. We just eat our food that we make before we go there. We just buy a food when we are go home.
I see so many beautiful views there but i didn't know how to used cellphone before so i don't have a picture. We see a sea, farm, mountain and many more while in the bus. We stay there in 3 days. We already got home in midnight.
I already miss that place because there's so many flowers there and the view is so beautiful. There's also many trees ang fresh air. I hope we can go back again there.
We just rarely go in the swimming pool because it's too expensive and no budget. Even one of my family have a birthday, we didn't celebrate in swimming pool. We just go to swimming when someone invite us to go there.
One of our church member have a debut, they celebrate in a private swimming pool and they celebrate there. We are invited in swimming pool so we go there. I just in the kids pool because if i didn't know how to swim. I just go in the adult swimming pool when my parents hold me.
We also just swimming when my mother's family want bonding. Our house is not near in there house so we just rarely go there. Before, my mother sides want us to go in the swimming pool. We go in there house and go in the swimming pool. I'm so happy because there's a slide there🤣. We slide down to the water and it's so cool🤣. My mother also buy us a salbabida so we are flouting in the water.
I already miss to swimming but we can't because there's no budget and there's pandemic also.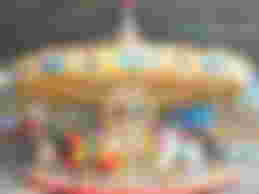 My grandparents are near in the River bank. They need a 1 ride because go there. It's just a short ride and we're are in that place. One time, when it's Christmas, we are go there and go in the river bank. There's many games there but i just ride in carousel because i I'm just a kid. I want to ride in the scary ride but I'm only 12 years old i think or 11 years old.
I already miss it because i viewing the river beside and we also eat a delicious food🤣. I hope soon i can go there again.

You? Do you already miss the place that you already visited before? What is that place? Can you share to me?
My 5 recent article
Why I'm not confident in my self?
A little cute kid in our house