Published on: September 19, 2021
The weather's fine and jolly today. The heat isn't tolerable tho at this hour. I am glad that I brought myself to take a bath, yesterday. Hahaha. I'm almost fine. Just a partial headache. Sometimes it attacks then disappears after few minutes. And I feel like there's air inside my head. 🤦‍♀️By the way, you? How are you coping up with your days? I assume you are just doing fine as well?
Previously, I've talked about "infected" and I got to talk about the virus, and why people don't want to associate theirselves to vaccination. Well, it's their choice right? We can't force them.
As I've formerly shared that I had a fever, that's why I wasn't so active for the past days and a week now. It all started with my uncle and then it got to me. The chain of "fever" associated with Covid-19 like symptoms. We don't know if this is really covid-19 but I'm really praying it is not. We're all infected.
The thing that keep me chill is that we're no longer alone. I mean, few people from our barangay are experiencing the same fate we've been dealing with. Fever. Headache. Cold.
I think I have been dealing with this for a week now and that 1 week, I've been checking myself to ensure that my senses are still intact. Okay, I can smell my food, myself and other people's. I can taste just like before but only today, I discovered that I lost both.
Man, I can't taste anything. Or I haven't tried to drink vinegar to test. Fudge, even my sense of smelling is growing weaker. I thought I'd be saved from suffering from this weakening senses. But I am not.
When I first discovered that i lost my sense of smell, I went to the kitchen and sliced one onion and ginger but little to nothing I can't smell both. I sprayed perfume few times, I didn't smell anything. Not even myself, I failed to check if I stunk or not yet?
A while ago while I was munching on my bland lunch, I thought of trying to eat one piece of chilli. Well, I saw this on facebook. That man could incredibly eat chillies without being burned. And a comment caught my eye that says "he might have a covid 19 virus that's why he can't taste it being spicy". So he is taking advantage of the situation? Why not? Let me try that.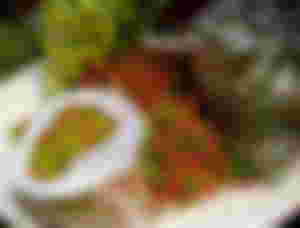 I didn't hesitate to take a bite. And man,
It was burning! My throat was too. So I didn't lost it? Maybe she's just tired...If I haven't shared it to you, I kind of like spicy. But too much is too much so I eat spicy food, moderately.
Losing just one of our five senses is already terrifying. What if we loss not one but two? Smelling and tasting in particular. Everything you eat, however tasty it looks, you'll taste them as bland. If you loss your ability to smell, then how are you going to identify whose scent it is or say how are you going to distinguish this particular person has a bad odor and the other does not have. You can't even smell yourself, that's that's...🤦‍♀️
I can't imagine every people in a community losing both of their senses. They can't smell each other. No one can judge how delicious Marites cook compared to her other "kumare" hahaha. One might add too much seasonings to their food e.g salt just for them to have a real taste🤦‍♀️
We're a bit turning to be a tasteless community right now (Hahaha). Even in the household, it's kind of funny that mom would ask me to taste the food she'd cook because she couldn't taste it herself but how can I taste it if I can't taste it?
Having weak senses (smell and taste) is saddening and a bit frustrating because you wouldn't be able to taste any food. (But you can try chilies)

Anyways, we're kind of doing good. Nothing to worry now. Yay.
Lead image- Photo by Dim Hou
Pic#1- unsplash.com
Pic#2- unsplash.com