Worth the spend: Thanks Read!
Date: April 5, 2022
Writer: AlphaCron
For the past two days, I failed myself to craft blog entries provided that I intended to utilize my precious time writing my proposed study for our classroom-based action research. I couldn't deny the fact that I was struggling to find a good review of related literature, but fortunately I was able to accomplish it.

To tell you honestly, whenever I have academic tasks to carry out, I make sure to give my full attention and time. Although I do procrastinate, nevertheless, it doesn't come to a point where I have to cram. In terms of my academics, I really make sure to be serious.

On the contrary, yesterday, I went to school 'cause it's Monday, and I was on duty. As much as I wanted to wear my practicum uniform, however, I couldn't because it was still not done sewing. Anyway, we just went to school only to find out that our resource teacher was not around. We didn't ask her regarding the reason why she was absent for we know that it's a private thing to ask. As a result, I was able to make my lesson plan and did a short minute review for my scholarship exam.
---
Haven't read my previous blog? If not, then please consider reading it through this link.
https://read.cash/@AlphaCron/a-regular-employee-of-readcash-d2a83c5e
---
I'd like to flex my phenomenal sponsors of Read.Cash. Please consider subscribing to their accounts and might as well check out their blogs every day.
---
For today's blog, allow me to describe my day today. And so without further ado, let's cut to the chase!
I woke up today feeling very much excited. The reason for my excitement is that at long last, I finally wore my practicum uniform. I left the house at quarter to 8 in the morning and was able to be at school at 8:26 if I'm not mistaken. As soon as I arrived at the campus, I was taken a back because most of my classmates are not wearing their practicum uniforms unlike yesterday. They told me that we will clean the T.L.E lecture room. If only I was informed yesterday about the task today, I would've not wore my uniform. Anyway, it's not only me who wore a practicum uniform, but also my best friend. We're both screwed up considering the tasks we needed to perform. Hahaha.
To cut the long story short, we were so drained the whole morning because of the tasks that we had to do like cleaning the lecture room, decluttering a lot of heavy stuffs inside the lecture room, and sorting out some modules to be released this Friday.
After we carried out all of our tasks, we managed to take some photographs of ourselves wearing our astonishing attire for today.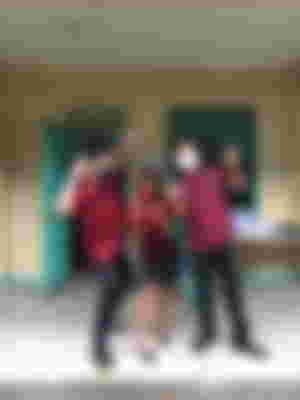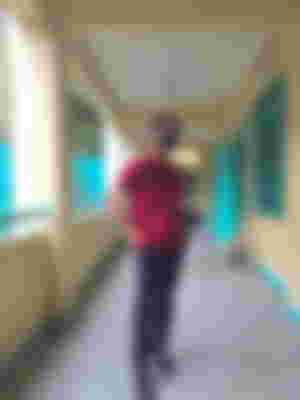 Closing Thoughts
Before concluding this blog, I would just like to tell you all that because of Read.Cash I got to wear this outfit. It cost me almost $20 for this and it's worth the spend. I'm happy how this platform has given me the chance to spend this sum of money with pure hardwork and patience.
---
I think I'll end my blog here folks. Thanks much folks for dropping by. Hope that you find this blog amusing!
Anyway, keep an eye out for my next blog! Bye for now.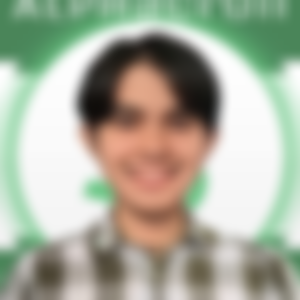 Lead Image: AlphaCron