Shared Memories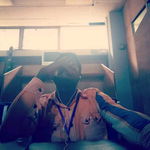 I had woken up unusually late today and that was mainly because I was diving in and out of sleep all through last night. Really don't understand my sleep pattern these days. But that is a common occurrence especially when I am at home.
My friend and I were reminiscing about some memories yesterday on WhatsApp messenger and we were laughing really hard about some of the funny memories we had. It was good to hear all the laughter through our voice notes. I was going through my gallery earlier today after remembering the conversation from yesterday and was laughing at the different memories I had captured.
Came on read.cash and while I was reading FarmGirl's article I Definitely Wanna Fly wasn't so surprised when she stated that she'll choose memories over money. That's to tell you how important memories are. I am not really one to take pictures/selfies randomly. But I am big on taking pictures to save memories. So that I can bet most of the pictures on my phone represents one memory of the other.
You'd be surprised I have pictures from 5/6 years ago on my phone and they are still so gorgeous😅😅. Perhaps they'll become classics in the future.
Memories are good, but what are memories that are not shared? I have come to accept that people are invaluable and building relationships is essential to a fulfilling life. Friends, families and sometimes strangers are an important part of our lives and the memories we make are usually cherished.
I remember having a female friend years ago, she was someone I met on Facebook then she was living in another state in the country but we were very close. I was so happy when she came to my state of residence one holiday and even though I was occupied with work then, I had to squeeze out time to meet her. Till date, that time spent with her is one of my most cherished memories. I posted the pictures we took on Facebook and someone said we looked alike 😂😂 (that's not wrong though). We had the same dentition and we share a resemblance too. You'd think we were siblings.
One of my life goals is travelling the world and visiting all the places I want to. I really can't fantasise about this dream without thinking about who I'd want to share the memories with; a friend? A partner? A family member? Surely a happy experience or adventure will bring us joy, but it is even better when it is an experience or adventure we share with someone. It does not feel the same. Reminiscing about such memories alone with no one who can relate and talk about it too is no fun.
I am not the most social person, neither do I have many friends. But I do have people I have made special memories with, and I have friends I'd want to make beautiful memories with too. So, @Mhizutty start making those plans for the group picnics, outings and friendates. You name it 😂.
It is no news I have been home for over a month because of the ongoing strike. Things haven't really been busy for me, except for the occasional stroll to the community football field where I watch local games. Most of the people I converse with are either not around or have moved to a new location. So, all days are the same and not so exciting because I am mostly indoors.
One of my old friends did text about three days ago to ask how I was doing, I told him I have been home for over a month and he was surprised to hear that because he thought I was in school and I also thought he had gone off for his Masters programme.
He works in a vet clinic 3 times a week, so I will try to meet with him whenever he is free this week so we catch up.
Thank You For Reading 🖤🖤
Follow me on noise cash