Money and Love ≠ Happiness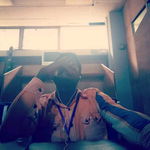 Today had started with a lush coolness that comes with the rain. I love the weather, as a matter of fact, I thrive in this weather. The only downside is that I get to cancel my plans of doing laundry. Oh well, it is the weekend, so I'll push it to tomorrow. Today I am writing about some things I often find my self talking about. Three concept HAPPINESS, LOVE and MONEY. Was reading a post the other day by Ruffa Which one Wins: Reality or Imagination? I told her I have got a topic to write about from what I read. Though let me warn that it may turn out to be free writing, and I'll try to organise my thought in a way that the message is passed across, and if not, I apologise in advance.
I remembered one of the profile pictures I used on Facebook years ago had a quote by John Lennon:
"They asked me what I wanted to be in future and I answered 'HAPPY'. They told me I didn't understand the question, I told them they didn't understand life".
These are words but they resonate deep meaning to me. Questions I often ask myself are:
What is it you want most in life?

Would you rather be rich and unhappy or poor and happy?

Does having lots of money guarantee happiness?

Can one have it all?
I am sure happiness and money are two things everyone want in life. Some have found one at the expense of the other but I am sure we all strive to be one of those at the point where both intersect. The harsh truth is that not all of us can be there.
But if we are presented with a choice to choice one or the other what would be our choice? I think I am now more inclined to do things that make me happy above all else, as long as I am not hurting anyone in the process. Fair right?
I remember a friend of mine posted :
Money isn't everything, but it ranks up there with oxygen.
Surely I cannot undermine the importance of money. It is very important and honestly, it is the solution to many problems. Or do I say most of my problems?
Every day people wake up and head out to find their daily bread so they can put food on their table and keep a roof over their head. Somewhere between all the hustle and bustle, we forget what true happiness is and we don't even have the time for it. Our life is programmed to follow daily or weekly or monthly or yearly routines. Oftentimes, we find ourselves working jobs we don't enjoy just because we have responsibilities and bills to pay at the end of the month, so we are stuck doing what provides for us and not what we enjoy doing.
Let me switch it up. Would we all agree that love is synonymous to happiness? It is almost impossible to be in love and not be happy, well, that is not to say love doesn't have its own challenges but you do get what I mean don't you?
Now this is another question to you:
Would you rather find true love or be wealthy?
Before we proceed, when I say love, I speak not of unrequited love, finding love doesn't mean that you would be a wretch, also, because I am trying to steer a middle ground here...or not, let me quickly say that money doesn't guarantee happiness or love (at least that is what I think). In fact, it is popular opinion that showing love to someone after money isn't true, or is it unpopular opinion? 🤔🤔🤔. Of course that is fallacious but one can see the point.
Real love is unconditional (debatable) but for the purpose of this article, let's all agree it really is. That it is unconditional is why you can be the wealthiest man and still find love. When people love you, they are supposed to love YOU and not your possessions or your features or even your accent. That is why one can be wealthy and still experience genuine love. Besides, love doesn't have to be in romantic form only, it could be your friends or your family that show you the genuine love you need.
They say money can't buy happiness and the best things in life are free, but are they really?
My answers to aforementioned questions I often ask myself
What I want most in life is happiness and peace. Really, that is all I want

This is a no brainier, I will choose happiness over all if I am being honest with myself. What's the point of having money and not being happy?

No, it doesn't. But having money does make one happy in not? 😂😂

Yes, there is a possibility one has it all. But what is ALL? MONEY,LOVE HAPPINESS? Yes, one can have it all.
Let me leave you with a lyrics from Drake's Weston Road Flows
"But money can't buy happiness, Jellee talkin' truthful
But I'm happiest when I can buy what I want"
NOISE CASH
Thank You For Reading 🖤🖤