Your attention matters alot
July 3, 2022
Yesterdays article was about how I feel because its been how many days that rusty never pay me a visit even a single time and I feel somewhat a little bit demotivated, but I did not focus on the negative sides of his absence, but rather I look back on the positive sides he did to my life, just like how I pay my utangs, and I forget to add on my article yesterday about my gold necklace na nakasangla for a year and readcash and noisecash is the way bakit ko ito natubos, thats why I told myself I should keep on fighting as rusty is still fighting too despite the roller coaster in the market.
So before I slept lastnight, I did pray that hopefully he will pay me a visit even a single upvote for me not to think that he totally forgot me. I am not expecting but I am hoping deep inside my balunbalunan este heart pala.
Then this morning, after my morning prayer, I immediately check my readcash account and after refreshing it, I see that theres a little amount added in my earning, so I hurriedly scroll down and I feel so kilig and happy seeing that finally rusty pay me a visit not just 1 but 3 upvotes, super saya ko talaga, and I utter these words THANKS GOD and thanks RUSTY for saying hi to me again.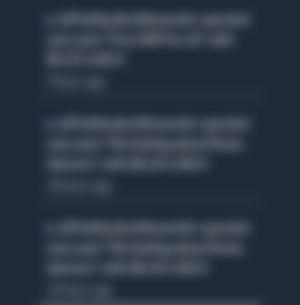 I might sound napakababaw here, but if you are in my shoe, who is not very good in writing articles and in my english is poor and rusty did not pay a vist for almost 4days, well kakabahan ka talaga, coz there are thousands of good writers here that might caught his attention, just like what happened before when rusty focus on the 2-3 great writers here. Even other good writers gets worried that time ako pa kaya na eme eme lng ang articles ko.
So forgive me for my kababawan but this is what my heart is telling me to write, kaya Im just expressing it hihi and I will promise to myself and to all of you that I will stay here and keep expressing my heart until the platform ends. This is how readcash touches my very heart.
==
Its a blessed sunday, but we just stay at home and my partner woke up early and got some buko, then after a while I saw him cracking the buko and saving up the juice for us to drink and the buko itself was place in a caserole(dami kasi), then he went out after how many minutes he is back with fruit cocktail, condensed milk and pineapple tidbits and he prepared his favorite fruit salad, maybe you'll wonder where is the nestle cream, and to answer that questions, well he is not into adding nestle cream from his salad,even though I kept telling him., And since it was his favorite and he initiatively do it so I did not force him anymore.
And thats what special today on our table!