Red envelope under
October 17, 2022
We are down to the third week of October and we are getting close to the spooky day and the yuletide season aww! can I start the caroling now? Hehe
Anyways today I was running out of topic again, as in wala akong idea what to write , I want to share my rants here pero I choose not to, I feel like its not good coz it has nothing to do with others but only with myself hihi.
So for todays topic, I will share with you about the blessings I found with Adrielles durabox.
I was looking for Adrielles small clothes because I want to give it to her cousin, tho her cousin is 2months older than her but she is so petite unlike Adrielle who is bigger and taller than her cousin.
Actually last last week, I already declutter some of her clothes but its more of house dress, but today I check the pang-alis or gala or the clothes she uses when we go out to mall or parties.
I was checking the details of the clothes one by one and sometimes fits it with Adrielle if I feel undecided, so I was into slowmo while doing it, until I reach the lower part, her clothes is not that much naman as what I share before I am not into buying her clothes since we seldom go out sayang lang pera at damit, be practical dapat, and also I have a niece and her mom is fond of shopping, and some of her unused yet not abused clothes were handed with me, kaya dami dami pa nakastock.
I was about to finish when I saw a red envelop inside her clothes, and I was wow, may laman pa kaya ito?
Then I open it slowly para may surprise and when I see what inside, my eyes was widely open as lumaki mata ko, because theres a huge amount of money inside so I count it and I was like is this for real or I was dreaming because the money is about ₱10k($200).
I was very happy since we really dont have budget for this week because we have disconnection letter from MERALCO(Electric bill) and we don't even have our grocery stock, now we can do it the grocery shopping when my partner arrives from work.
So I keep the money and fix the clothes also, then suddenly I was spank by Adrielle because she gets awake and see my laughing while sleeping, at ayun nga po panaginip lang pala ang lahat hihi. Ang hirap ng madaming iniisip nadadala sa panaginip.
But honestly I secretly kept a red envelope on Adrielles durabox, its her money from the Christmas last year, if you remember we did the namamasko with her aunties and uncles, ninang and ninongs and cousins and she earned about more or less ₱2500 and some of her money were used for our grocery for the new year, and some of it were secretly keep for herself.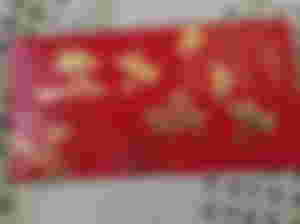 Why I keep it? Simply because its her money and we can used it incase she wants something and we can't afford to buy for her or maybe when we go out and have fun or eat or buy clothes or toys that she wanted.
I know there are some parents who used their kids money for tge family needs and its good too and I respect that, but for me this is my way of saving her hard earned money.
Last year, I did the same thing, whenever someone handed her ₱20 or any amount I keep it, and last december I used it to buy her clothes and shoes since last year was a tough year also for us and we can't buy her a new pair of clothes for the holiday, so she bought for herself without her knowing that thing.