Preparing for Summer get away
March 26, 2022 14:02pm
The other night, my neighbor who is the cousin of my partner invited me to join her going to the city for some errands,since she knew that I need to bought new electric fan coz the one we are using was broken(manananggal na), but I replied that I will wait for my partners approval and money, coz he was still out to get the salary for cleaning the roads here(parang TUPAD), he came around 12:30am, so I wasn't able to ask him.
Then morning came he lay with us in bed and I ask him how much did he get,but he answer me nothing, so I thought he was joking but No he is serious that he did not receive even a single cent. So I feel worried that I can't buy a new electricfan coz when I asked him he did not reply.
So what I did was do my chores and soaked the clothes and I will just do the laundry. Then my partners cousin approached me again, then I replied that I will ask again my partner. So we went on his work and I told him my plan and he agreed, he instruct me where to get the money and also ask me to buy him a gloves for his work, and I also said that I will buy Adrielle timbulan(salbabida) and rush guard,so if ever someone invited as for a swim she is prepared.
So we headed back home and take our shower and prepare to go, my partner handed me ₱2000($40)and Adrielle has ₱1000($20) from my brother. So we went to the city, our first stop was the kids floater/ timbulan(salbabida), Adrielle choose what she likes even I asked her that choose other than her like but no, she was so stick to her first choice, its like on the picture but with hello kitty as the design, the price is so cheap so I opted to buy it, only ₱85(more less $2)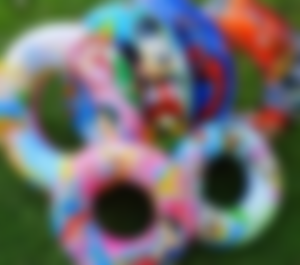 Then the next stop was her rush guard, I saw a unicorn design and she likes it but when I look on the hands of the clothes it was crampled and I dont think that it will be gone after wash so I choose another one, and this one caught my attention, coz its so cute and just fit with her,and I ask her if she likes it and she answered me yes so, I buy it for her, it cost ₱120 but of course need na tumawad so I got for ₱100($2).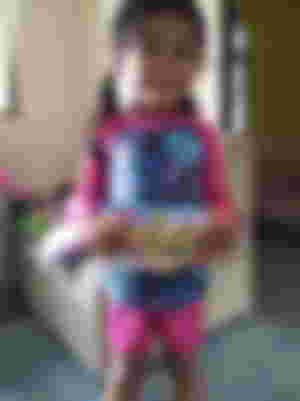 After buying her stuff we went to buy the electricfan that we need, it costs ₱1378, and Adrielle looks for a toy but she saw the make up kit and opted to have one since her cousin Bella have make up kit but I told her its not good for the kids and I look for educational toy and she agreed with my choice. Then when we headed to cashier, my partners cousin have a card from the store and you can used it as a discount so I was so lucky coz I got the electricfan for ₱1240, 10% off was applied because of the card. Then I can say that I have a good choice coz the fan has broad range and the hairit blows was strong
Then we had lunch at jobee ask her request, then before we headed home I bought her milk and vitamins. Then right after we rode the tricycle the rain starts to poured down.
Anyways tomorrow we will be going to the beach so Adrielle was so excited.