Yesterday morning, before the wife of my partners brother leave going to her school, she ask my partner is he was already vaccinated, and my partner said no, and he dont want to be vaccinated too, since he was highblood and his belief about this vaccines is not purely good. Then she ask me, if I was already vaccinated and I said not yet, then she told me that I should prepare because she will give me slot for the vaccination, and so after that convo I started my chores right away and I finish by 10:30am and I eat a little and prepared myself, but I m still with hesitation because no one will take care of Adrielle.
Around 11am I bring Adrielle to his tatays work and he said his brother will take care of Adrielle, but Kuya(older brother) has something to do. So he get Adrielle with me and I go, Kuya drop out us on the vaccination sites. So while waiting there are some people who check our valid Ids, and your address must be from LUCENA CITY but my voters ID was still address in Pasig City but I presented them my BARANGAY CLEARANCE and they said they are not honoring it but they will still coordinate with others, then after series of arguments and discussion they honored my barangay clearance. The girl told the checker like this NEXT TIME NA BARANGAY CLEARANCE AND IPAKITA SA INYO TANGGAPIN NYO NA WAG NG ITANONG DUN SA MGA NURSE, then the girl gave me my paper and said nevermind them, its ok and keep your paper. I thought I will get home unvaccinated😀.
Then they give us a number sticker then went inside the vaccination area, then wait for awhile and we had a little interviewand give ys the vaccination card and fall in line with the vaccinator, then I am vaccinated already. Then another waiting time for about 15-20minutes for observation of dizziness, vomitting or difficulty with breathing then if nothing happened we are ordered to go out. Thats how easy it and I am vaccinated already.

I did not feel anything after ny vaccination unlike my companion they immediately feel the heaviness of their shoulder, and when we arrive homeI still feel the same until the night came I started feeling the heavinesa of ny shoulder and it gets swollen a little. But all in all. I feel good and I hope that no more adverse effect will happened to me.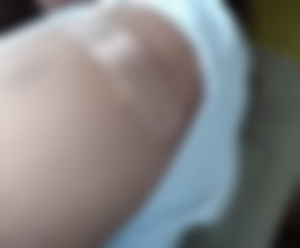 ---
Other places accept vaccinee from other places, but I dont know why here in our place need that valid ID first that you are a residents in these place and even you have a proof they will still question you, not only me experience that scenario, a man behind me experience the same and he was almost got mad.
When I was waiting for my vaccine the vaccinator is preparing the vaccine from the vial to the syringe and out of curiosity I ask her how many syringe in one vial and she answers me that ONE MODERNA VIAL CAN ACCOMADATE 11PEOPLE thats why need alot of people to vaccinate, then my eyes rolled and my mind is telling me why they need to check the IDS and need to be residents of LUCENA inspite that you have already the INVITATION NOTICE as your entry pass.
---
Closing Thoughts
I am not forcing everyone to be vaccinated still it depends upon on our body condition and from our belief, if you are hesistant then dont take the vaccine because sometime our body also reacts with what we feel. And also let ask God guidance, because He knows everything! And we must be honest to answer the question of the interviewer about our history to avoid complications.
This is for now! I supposed to have my afternoon nap but my mind don't cooperate so I end up writing my article for today. Thanks to all the readers, upvoters and commenters. I owe you bigtime.
And of course my amazing sponsors you are all a great writer, thanks for your inspirations, I owe you big big time😀
God Bless Us All !
🌹Annie Marie🌹
2021.10.16