Busy monday ft my epic fail banana bread
Ocober 10, 2022
New week, new life, and new ME char lng. This is how I started my first post in noisecash haha arte lng syempre un.
Even I had sleepless night because Adrielle is still with fever, I tend to wake up early to cook for my partners packed lunch coz they were assigned to the other barangay. I get up slowly and let Adrielle sleep more and while cooking the rice I started my laundry that was soaked lastnight.
But the moment the car alarmed and Daddy(our neighbor/partner brother)spoke up Adrielle awakes and notice Im not beside her she starts crying, I told you she was so clingy with me, that even her tatay was with her she wont stop crying unless she sees me and be right next to her, so in the end partner prepared his packed lunch.
We had breakfast and I continue doing the laundry after then when I'm about to rinse,I remember that I need to buy something coz I will try to make a steamed banana bread since we dont have oven.
Before proceeding my laundry, we go out first and buy some ingredients like egg, flour, I also buy cookies for Adrielle and brownies for me, the money I used was from my gcash business because partner only work for 1 day and his brother still not paying him after managing the harvest for 5days kasad diba,what if wala din akong pera paano na, ayoko pa naman nangungutang.
Then I continue my laundry when get home and let Adrielle play while I am busy, then while soakingbthe clothes with fabric conditoner, I clean the house first and the frontyard and clean Adrielle after,she wants to take a bath but still can't since her fever lastnight was too high, then after I give her snacks which is the cookies we buy and prepare her kalamansi juice, we have enough supply of kalamansi I dont where my partner get it but he always brought home fresh kalamansi.
While she is on her snack and watching tv at the same time, I hang the clothes and after put water on our water on our tank because it was already emptied then we have our lunch.
After lunch I get with my expirement, since we have over ripe banana here,I opted to try to make banana bread and I watch in yt that you can do a no bake banana bread so my guts to try was there. The blogger from yt said you can used what is available on your kitchen or some ingredients can be optional so I wantedto try my own version too.
I used 4 over ripe bananas(saba), 2 eggs, about 2cups of flour,sugar and margarine since I dont have butter, I did not add baking powder and baking soda since nothing to buy on the sari sari store and I was shy to ask a little amount from my neighbbor who bakes cake ayaw ko ng ganun pahingi hingi kasi gamit nila un,maybe I will buy next time when I went to the city.
So I start to mix the flour and sugar then set it aside, then i mashed the banana and add the egg and mix it well then combine it and the melted margarine insted of butter and mix it together, I forget to add milk on the ingredients so am sorry, I remember it when I already steaming the expirement so, instead of getting it from the steamer, I just continue ang maybe I will try it next time, I let the cooking for about 45minutes to 1 hour since its medium heat only, and we get to bed and rest.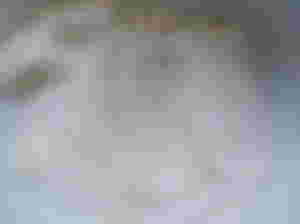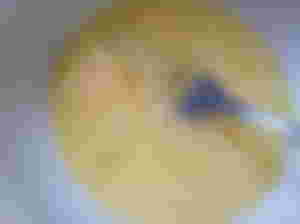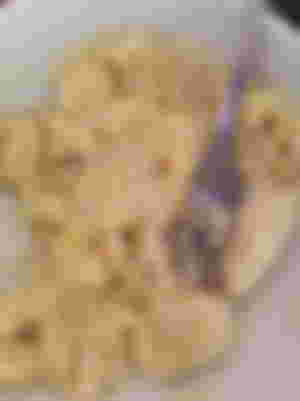 After 1 hour, I let the banana bread cool down and now while writing this I try to taste it, the taste was good a bit sweet but it did not turned out like a bread maybe because theres no baking powder and baking soda para umalsa, it looks like a banana pudding.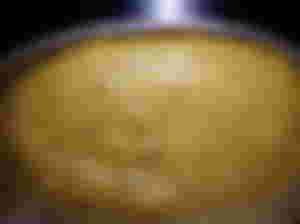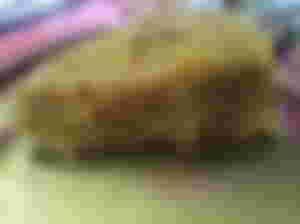 Although it did not turn out well like as what I am expecting but atleast I did try my best and explore the other side of me. Next time I will do this again with almost complete ingredients and gonna share here again.
Thats all for my busy monday! I hope you enjoy reading if not ok lng din bwahahaha.