Tired but feel blessed to be alive
I was not able to be here that much yesterday for I had to go see my aunt and her family. I have been mentioning that they have come home for the sake of our grandfather's burial. A service will be held today and tomorrow. That will be another reason that I will not be here tomorrow.
Yesterday, we had to buy the needed materials to build where we would place our lolo's remains. He had been cremated last January and his ashes were in an urn. Because his children are all present now, it's about time to finally put him to rest.
I did not go there right away for I have still have to do some tasks. Once I was done, I then prepared myself and headed out. When I got to the jeepney terminal, the jeepney was empty.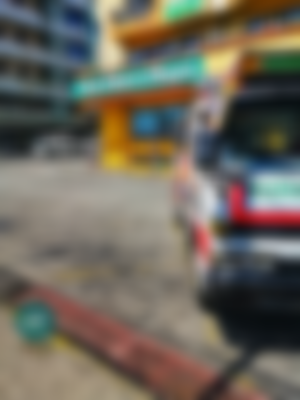 I had to wait less than an hour before it was full. It's past 10 a.m. already but there were a few passengers then. Usually at this time of day, it takes longer for jeepneys to fill up. Mornings and afternoons are the times that they fill up quickly.
When I arrived at our lolo's house, it was already nearing lunchtime. My cousins and brothers who were at the cemetery that time arrived a few minutes later to have their lunch. Once we were done, we rested and then I joined them to go to the cemetery.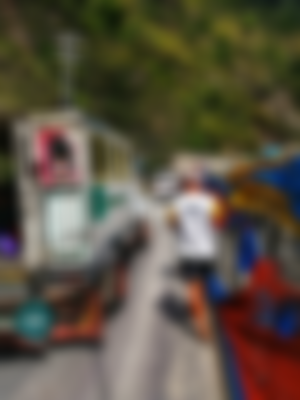 This road is temporary for the one on the right is currently being constructed. I haven't been here in a long time. It's impressive the development on this part of the road is going. This is a landslide prone area so they decided to build a better, bigger and hopefully stronger bridge that will last a long time.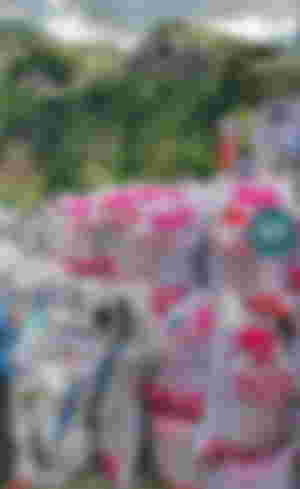 These are stuff that we had to carry from the main road to the cemetery which is located at the top of the mountain even past those houses that you can see in the photos. The ones in sacks with pink prints are not hours. Just the sacks of sand on the left. We actually had too much of the sand. I hope our cousins will find someone to buy those from us for we don't need them. We can't order one-fourth load of sand. The required minimum amount is half a load. So what we did is carry the sand that we needed and then left the rest there. I was not prepared carrying these up the mountain. I haven't been to the cemetery so I didn't know what to expect. This is actually my first time to go there. It was a work out that I was surprised I was able to do for I don't usually do this kind of work.
It was rewarding though to be there at the cemetery because the view is nice. It's shady and windy. My cousins and siblings were saying that they were surprised to see how populated the cemetery was. It is a reminder that life can be taken from us that easily and that quickly. Going up and down the mountain with heavy load is not that easy but those who are used to it like those who live there have no problem at all.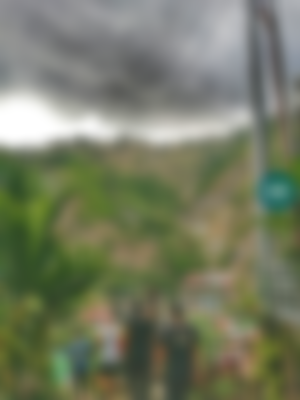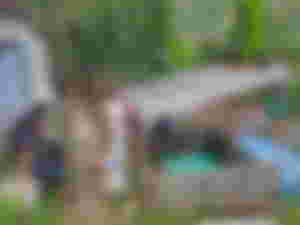 This is where our grandfather's remains will be placed beside our grandmother's remains. They started doing what needs to be done yesterday when we were finished carrying the needed materials. I had to leave them though for I still have to go back to the city and had to catch the last ride.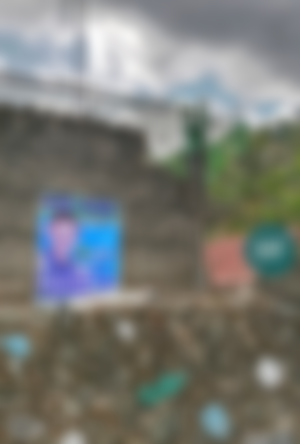 This cat was having the best time of its life. If only I can be a cat. This has been there the whole time we were doing our work and it was still there when I went down the mountain finally.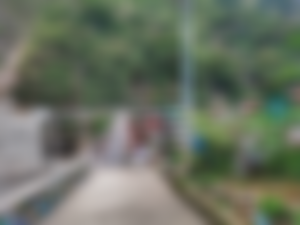 This is the bridge that we have to cross. It's a weak bridge for it cannot carry vehicles. Motorcycles are fine. That's the reason why the deliver truck did not pass through. Our job would have been easier if that happened. This bridge has been replaced for the old one was really old and was destroyed during one of the strong storms before. This current bridge needs to be replaced as well.
Tiring as it may but I still had fun laughing and joking with my siblings and cousins. It made the work lighter for us all. It's kind of ironic that we it was during sad times that we come together sometimes but I think that is how life is. We come together to comfort each other, to give smiles and laughter amidst the tears and pain. Sometimes we say that we don't need others or others don't need us but we have to learn to be there for others. Your mere presence in times of sorrow is enough.
Thanks for reading!