My friends left me
I was inspired to write this article after I read @articlee's article.(sorry for tagging you here)
https://read.cash/@ARTicLEE/i-wonder-if-we-can-be-friends-d1baf73c
His article was about friends and it made me realize that my friends left me. Not in a bad way but all of us had our own responsibilities in life, especially since most of my friends had families already and maybe I left some friends for my family too.
I am not the kind of person that takes everyone my friend since I was little, namimili ako ng mag kaibigan dahil minsan nabubully ako at naiiyak. I only choose those friends that give even if they had little and those who care because that's the way I treat them too.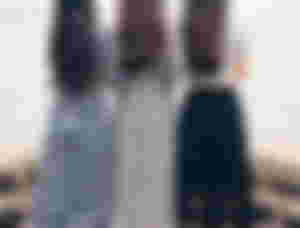 Here are the friends I had:
I met her in the third grade. She's a fair-skinned skinny girl in the same class that I have. I am a transferee from the public school because the school that I had been to is not offering a third-grade class since only a very few students are going there.
Coleen was the one who welcomed me. Maybe she sensed that was culture shocked because the school I was in before that only had less than 20 students in the classroom but there are more than 40 n the current class.
I even remember her giving me a " Finding Nemo " pencil case which I treasured so much that I kept it in my closet under my clothes so no one will take it from me.
I still had it when I got married but sadly, my eldest child got access to it and damaged it while she was playing.
Sadly, she left for manila after graduating in the sixth grade to continue her studies in the place of her dad. I looked for her on Facebook but it felt like she was very busy with her life.
I met Ramelyn in the first year of High school ( not a K-12 curriculum). We both got along after a group activity in one of our subjects and never got separated from that time. She often goes to our house to take her lunch and we both climb into the guava tree to take some fruit to eat.
She was a neighbor and we are already friends even since I and my family moved into that place.
It was in my third year in high school when Faith, Ramelyn, and I is the same class so we three got along through the year and wished that we will still be classmates on the following year.
Unfortunately, none of us were classmates and Ramelyn dropped off from school that year and did not graduate.
So in my last year of high school, I was seated next to Noriekand Beverly in the second half of the year and we all got along.
But I still miss my girls because I have grown comfortable with them and we have a different kind of fun when we were together. Apparently, Faith found a new group of friends too.
The year ended nicely with the friends that I had. After High school, Noriel went to the City while Berly stayed at home and I went to college.
These two are my closest friends in college from the start to finish. The three of us took the same course and the same major.
We had been through ups and downs in our college life but after four years, we finally graduated I left home to look for a job in my place.
We are still connected on facebook and messenger but we rarely have a chat or talk. we have different busy schedules and we only reach to each other when greeting each other with happy birthdays and when holidays come.
A few months before graduation, Ton went home from Manila and courted me again, this time, we lasted for over a year and were blessed with a daughter.
Years of being together strengthened our relationship and we became the best of friends as our love and family grew. We become the best of friends since we both decided to ditch ( not the bad way) our friends and prioritize our family.
I and my husband does things at the same time. E.g.: we think of our child and talk about her in unison and we laugh about it. It was like our minds are synced.
---
In life, we meet different people and make friends with them but unfortunately, they are going to leave or we leave them/to find a better life and probably find another set of friends there.
Undeniably, the friends that we had has a great part in our lives too! they made those times wonderful and colorful and fun and we learn so much from them and probably they from us.
Would you agree with this? Let me know in the comments!
Sponsors of yoieuqudniram