2011 when I started to become interested in Korean dramas. I like kdramas because every time an episode ends, the next thing to happen is unpredictable, the editing is cool, and it often revolves around characters with different jobs or professions which enables me to get a broader understanding and view of how things works. From medical dramas, cooking, law (dramas about prosecutors, lawyers and policemen/women), reporters, businessmen and other professions out there.
Currently, apart from Korean dramas, I'm more addicted to Korean variety shows. It's so entertaining to watch, especially when they are eating. It's fun to see handsome actors who are very eager to eat, they don't act cute on camera, instead they make it seem like the foods are absolutely delicious. So I often think, how delectable is the food they eat? Sometimes I just want to go to Korea to taste their food 🤣
Good thing that when kdramas became more popular in the Philippines and more and more Filipinos are enticed with the Korean dramas, music and even culture, this opened up for business opportunities, and Filipinos seized that opportunity to make money. It's a win-win situation because both the kdrama fans and the entrepreneurs are happy.
Nowadays, there are a lot of Korean restaurants, and you can find one, almost anywhere in town or the city. Last time, I went out with my long time friend to unwind. We've been friends for more than 13 years, though we seldom see each other. We agreed to go to a samgyeopsal house before sight-seeing.
Samgyup House is probably one of the most 'sulit' restaurant in Legazpi City. (Sulit means you get the most out of the money you paid for.) A Korean barbeque restaurant where you'll get to eat a sizzling pork and beef meat that you cooked yourself.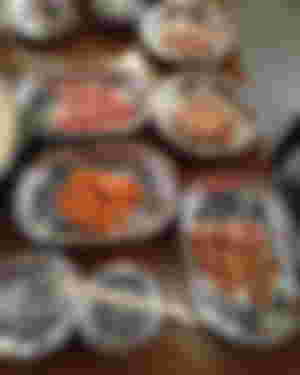 For as low as PhP. 399 ($8.23), you'll get unlimited meat and unlimited side dishes. They serve it in small portions but you can definitely ask for more anytime you finish a set. In our case, we paid for the unlimited Php. 499 set which has unlimited pork and beef meat.
For the 399 you'll get 5 kinds of meat of for the 499 set you'll get 10 kinds of meat. This is good you have a variety of meat you can choose from - seasoned, spicy or just plain.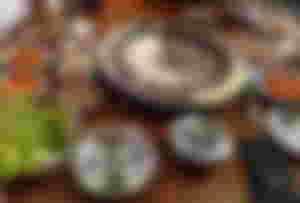 Aside from the unlimited meat, we also enjoyed the unlimited side dishes. They gave us japchae, kimchi, gamja jorim, and stir fried fish cake ( I think Koreans call it eomuk bokkeum). You also get unlimited sauce (I don't know what they call that but it's very spicy!), cheese sauce that is placed on the side of the grill and seasoned eggs that is also placed on the side of the grill.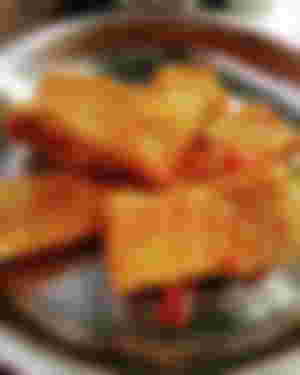 A stir fried fish cake but it doesn't smell fishy at all which will surely satisfy your palate.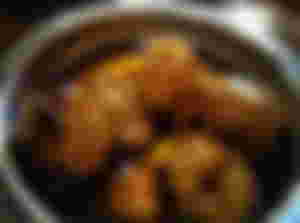 This one is braised young potato marbles. They call this gamja jorim.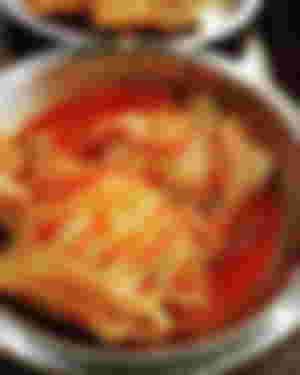 And here's kimchi, to give the meat more spice.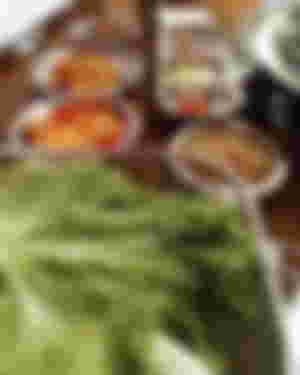 And finally, here's a fresh lettuce to add crunchiness to the meat. To make a wrap you can add a small portion of rice, bulgogi, kimchi and cheese or chili sauce, then you can dip it in sesame oil before you eat the mouth-watering lettuce wrap 🤤.
What's good about these side dishes is that it replenishes you digestive system, so you only get to eat a small amount of rice and more meat and side dishes!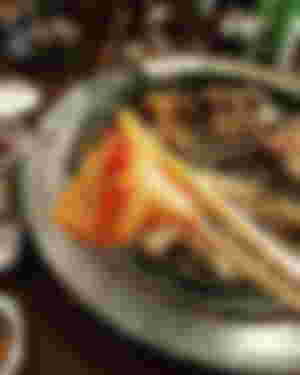 To feel the Korean vibe more, it is required to eat with a set of chopsticks because they won't give you a spoon and fork! And you can also enjoy a bottle of soju - a Korean alcoholic beverage which will not make you drunk , unless you drink a lot! 😆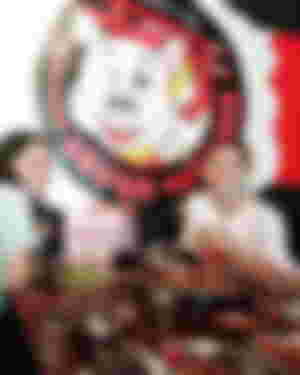 And here's a photo of me and my bff enjoying the food!