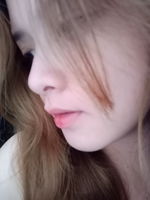 ________________________
Happy New Monday my dear brothers and sisters of this wonderful community!\⁠(⁠^⁠o⁠^⁠)⁠/ Its the last Monday of the month already. Look how fast is that! How are you, by the way? For sure, lots of you here will be busy again for school and work. Me? There's nothing new about my daily routines. Just the usual, for I don't have any other means of income rather than doing a side hustle jobs online. (Sighs...)
If you happen to read my blog that comes with a title, "Feasts Awaiting" I have mentioned there different dates of Fiesta Celebrations that will be celebrated for this month. One of the Sitios I have mentioned was Sitio Patag that celebrated their annual fiesta on January 28, 2023. And that happened last Saturday in which unexpectedly, I attended to.
Its been months already since our little barrio experiencing frequent rains. As for Mr. Sunshines' presence, it can only be counted by hand. The rains stops for a while, but pours out again and again. From moderate to heavy ones. But despite of that, it didn't stop the people to have fun while celebrating the said Fiesta. Of course, its been part of he culture that there will be games or leagues to be held in times like this. The main events were Basketball Men and Women. Yes, the events' organizers decided to have Basketball game both in men and women because the hosted Sitio don't have players for Volleyball game especially the women's division. Aside from that, the sponsors of the said event also wanted that this game should be the one to play of. Four days ago, before the Fiesta day, my teammates decided to join the game. The members are mostly on the Team Nanays (Mothers) and few among the Team Bagets (Youngsters) joined to create a team as the participant. As for me, I didn't join them because I don't want to be soaked in the rain waters and I still didn't tell Rhed about it. Of course, I don't want to end up with a fight afterwards.(⁠≧⁠▽⁠≦⁠)
Fast forward, with the luck on their side, they won their first game which allows them to move forward in the next round. As decided the top three teams picked out numbers to indicate which team plays against each other. The team Nanays picked out number 3 and with that, they automatically advances on the Finals or the Championship game. As for the Boys Team, same with Team Nanays, they also advances in the Championship game.
Meanwhile, in connection for the upcoming Fiesta Celebration here in our barrio, my sixth grade teacher pleaded me to lead the SK presentation together with my group before including our third grade teacher before that was actually our first dance mentor. Of course, I will embarrass myself if I refuse her request then. So, I said that I will try my best to contact the group. In addition to that, I also asked some of the boys and girls Volleyball team to participate because, "The more, the merrier!" (Full story will be on a separate blog. So, stay tune!)
One of the group asked me on our gc (group chat) to teach her the actions to familiarize it and it will also serve as our dance practice then. But since she still needs to travel from her place to ours, while waiting for her to arrive, we decided to watch the Championship games on the said Fiesta first. To my surprise, around 1:30 pm, she arrives already but we didn't proceed to the dance practice, instead, we go with the original plan to watch the games.
When we arrived there, the game already started in Women's Division. There were lots of audience watching there. Actually, my papa was there also. One of our elementary classmate joined it so we cheered for her. Unfortunately, they didn't win the game which declared them as the Third placer. After the game, she invited us at their house to eat. "Pagkain na yan, di talaga tatanggihan." Lol.XD. They served us, "Menudo", "Pork Humba," and a lot more. After eating, we decided to rest while waiting for the next game. We took some selfies together. "Part na yan"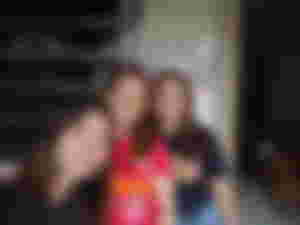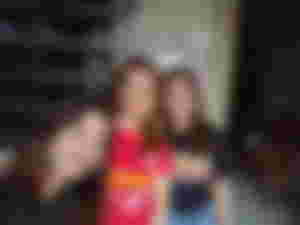 [Photos from this friend on my right side.]
Few minutes later, the next game was announced. It was the Championship game of Basketball Mens Division. Ot was a close game. Though the ball will not bounce because of the watery floorings of the playground, still the players managed to bring out the best in them to get a score. At the end, Team Cacao declared as the over all Champion while ours as the Second Placer.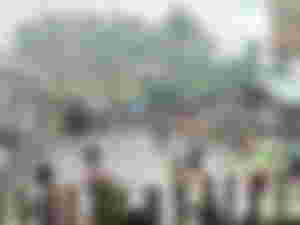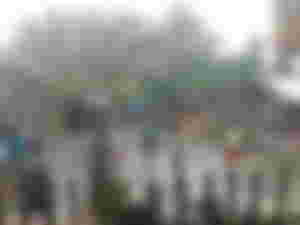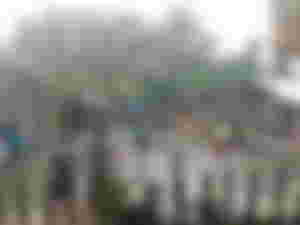 [Photos were taken by yours truly.]
After their game, the Championship game for Women's Division follows. Each team were given 10 minutes for their warm up. And the rain started to poured out heavily. At this time, I was requested to become the scorer and my friend as the timer.
The game started with a tip off. Team Nanays played against Team Kainting. On the first quarter, Team Kainting managed to shoot three times which given them six points while Team Nanays comes with only two points. On the following quarters, Team Kainting scored a lot while Team Nanays was left behind with 6 points only.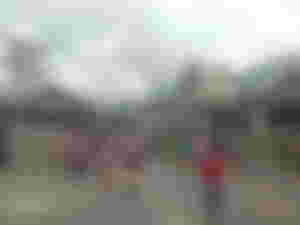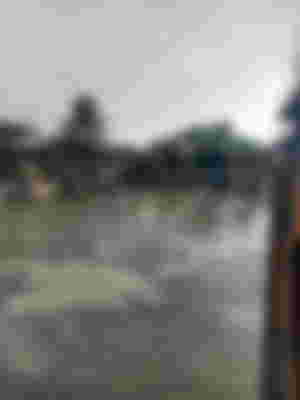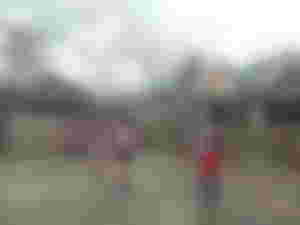 [Photos were taken by yours truly.]
Team Kainting kept on scoring till the last quarter which declares them as the over all Champion while Team Nanays placed at Second.
________________________
PHp 3000 (about $55) - Champion

PHp 2500 (about $45) - Second Placer

PHp 1500 (about $28) - Third Placer
PHp 3000 (about $55) - Champion

PHp 2000 (about $37) - Second Placer

PHp 1000 (about $20) - Third Placer
________________________
[All Thanks to my kind and generous Sponsors for giving their support on my works here. Thanks you for sharing how generous you are to me. And let me mentioned this awesome human being Sir @Telesfor for always leaving a huge upvotes on my recent blogs. May the Almighty Father give you all, more blessings and good health as always!🙇‍♀️ Thank you very much.❤️]
________________________
Rain or shine it may but the people here in our community will not be stunned by it, for sake of Fun and of course, for the sake of having the chance to win awesome prizes. After that, we decided to go home and proceed to our dance practice till around 8 pm in the evening. As for the Fiesta, the Sitio have their Disco night.
That would be all. Thank you for reading.