Stay healthy even when get caught in rains while riding
It should be dry season in my area right now, but last few days here, weather has become erratic and unpredictable rains occur frequently, this condition allows us to experience rain. For example, it rains on the way to work or on the way home and sometimes forgets to bring a raincoat. Getting caught in rain and still wearing wet clothes will cause body to become cold.
Being wet and cold for a long time can cause body to become sick and catch a cold. You need to know, when weather and body temperature are cold, virus will develop. That is why health of body can be disturbed when weather is cold in rainy season.
Colds, fevers, dizziness, and coughs that often occur in unpredictable and rainy seasons are caused by viruses and bacteria that thrive in cold weather, especially after it rains. That's why after it rains people get sick more easily. To avoid getting sick after rain, try this following things.
Immediately Change Wet Clothes
Without procrastinating, when you get home, immediately change clothes that are wet due to rain. Even if clothes are not wet, it is better to change immediately so as not to get cold. This is so that viruses and bacteria that stick to clothes do not cause disease in body.
Take a Hot Shower
Viruses and bacteria that roam when it rains may also land on the body. Therefore, immediately take a shower with warm water to clean it. Take a shower by wetting your hair to your toes. After bathing, dry the body, especially hair. Wet hair can cause the body to feel cold and dizzy.
Consumption of Hot Foods and Drinks
After bathing, body will feel more comfortable. It would be better if you immediately consume a drink or warm food. At least try drinking hot tea mixed with honey and lemon. Not only makes the body warmer and more comfortable, honey and lemon contain vitamin C which can prevent colds.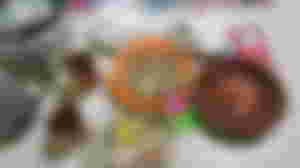 In cold weather, rhinovirus can replicate more quickly at temperatures lower than 37 degrees Celsius, which is average human core temperature. The temperature inside nasal cavity is around 33 degrees Celsius which makes it an ideal breeding ground for rhinoviruses.
Influenza viruses that cause flu can also survive and spread more easily when air is cold and dry. In addition, cold weather can affect a person's immune response, making it more difficult for body to fight infection. The reason is due to reduced levels of vitamin D due to reduced sun exposure. Vitamin D plays an important role in the immune system.
On other hand, low temperatures can cause constriction of blood vessels. Breathing cold, dry air makes blood vessels in upper respiratory tract constrict to conserve heat. This can prevent white blood cells from reaching mucous membranes, making it harder for body to fight germs.
That's why during rainy season and cold weather, you should spend more time indoors, to avoid some viruses that are very easy to grow in cold temperatures. Don't forget to always maintain your immune system and eat nutritious food to keep your immune system strong.
Thank you for reading till end, hopefully it can add to your insight.