Chapter 7 of 15 - How i end up with 0 balance in BCH?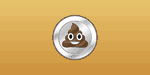 As the days go by, my balance was getting bigger and bigger. I was also helped by BCH, because its value was growing. I've had also some moments thinking about getting all my money and investing them into a new car or things I really needed in real life, but each time I was thinking that the price of BCH will really increase in the next years and I will get more and more.
One day, my father comes to me saying he needs to cash out all his BCH, because he wanna change my mother's car and that money will really help him. In two hours the money was in my father's account, but to my amazement, in all of this time of holding BCH, he actually lost around 150$ (price of BCH + commission fees when cashing out). I also cashed out 600$ from my money and put it into my father's account telling him those are a commission won by him.
The feeling of waiting a period of time and also investing money in something that is new for you when actually think that you'll win something back from this, not losing part of your own money. That was my own feelings at that time, and I don't regret it.
After a few days, I was thinking about this and it started to seem like isn't such a good idea having money investing in something so volatile. I knew that the price of how much one BCH costs depends almost entirely by BTC price. That wasn't such a good move for me, but per total, I was confident, that the bitcoin price will double in May 2020. For that moment I was preparing since I started investing in this cryptocurrency.
I started to read online different articles about crypto, and how people really do when they invest money in it, and I decided to convert 700$ of BCH into BTC. And from that moment I decided to invest 10% in BCH and 10% in BTC. In that period BCH suffered a big loose, from 800$ to around 500$. Even if in my mind I knew that is a good moment to get out of crypto and take a break, I couldn't do it. All-day long when I've had free time, I was talking to different online friends who own BCH/BTC and all kind of crypto, and I knew if I take a break all of this will be gone.
Follow me!