Pre-Kick Off Thoughts & Hive World Fantasy League Ready
With kick-off fast approaching, I managed to get my entry ready for the Hive World Fantasy League ready. Details you can find here. Thanks to @tengolotodo for bringing it to my attention in his post here.
Looking at the outright winners market here, I can see that the top 5 favorites are Brazil, Argentina, France, Spain, and England are currently the forerunners prior to kick-off.
I am not so up to date with the football and the team's different form but I think any of the top 4 is a good pick to lift the trophy. England is usually very often overbet, so would be my candidate to bet against in every match. They are playing some lower-ranked teams and maybe there could be a loss or bore-draw to wake them up from their slumber that could pay well.
I usually like to have a punt on some outsiders. I like the prices available on Croatia and Poland. If they start strong, the price could shorten very quickly.
Hive World Fantasy League
I've not been following football so closely these days, so it was not so easy to try and pick my squad.
In the end, I took the tips from scouts picks to select my initial squad, and then I can adjust as the games go on.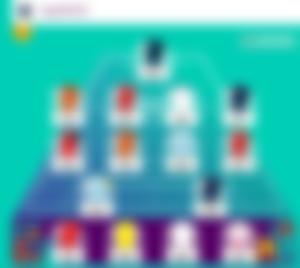 I have Messi as captain and will be relying on him to perform some sort of magic at the tournament, but will see how the starting games go and see who shows some spark.
I am really looking forward to the tournament and find it cool that it will take place over the wintertime. I will watch the first game at a friend's house with a few beers.
In the first game, I am fancying Ecuador but you never know with the opening games, they are ripe for an upset sometimes.
Thanks for reading and game on!

Credits:
All photos are mine unless specified. The title image was created in Canva with my own photo.
Screenshot of my Fantasy League team from source
Dividers and graphics created by myself in canva using hive logo.
Sponsors:
Let's connect : mypathtofire