Afternoon Jog
Hello, happy weekend readcashers! I hope you are all enjoying the weekend and making time for yourself.
Last year, I used to jog most of the afternoon even after work. I feel so energized doing so even with the muscle pain on the legs and the exhaustion. I used to jog on one of the roads going to a mountainous barangay and aside from the cardio exercise I also get to enjoy great scenery as it's way uphill and have awesome overlooking view.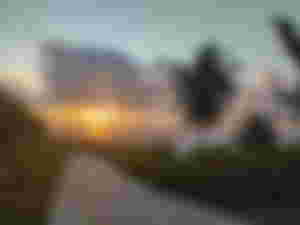 That is one of the many photos I took while jogging, that happens to be early in the morning as I sometimes jog early during the weekend.
I used to have afternoon jog together with my friend from work and sometimes there were three of us as one of my friend joins too if she doesn't feel lazy doing so. Sometimes I also jog with my niece especially if I decide to do it early in the morning and catch the sunrise.
I really enjoy and felt so much better that time when I had that lifestyle. I was able to sleep early from thr exhaustion and also able to intake so much water and felt so hydrated most of the time.
Me and friend used to jog or sometimes walk if we feel like jogging is too much at around 4:30 in the afternoon. We reach the end of our destination by around 5:00 or 5:15 and take a break talking random stuff ranging from politics, religion and our life experiences and of course we also talk about our co-workers. Maritesing with a view or sometimes with a great sunset is just too relaxing hahaha. By the time it is starting to get dark we started walking down and arive at our house by dinner time. I eat a lot after that exhausting jog and that is why I didn't lose weight.
Well, my goal for that jog is not to lose weight actually as I am perfectly okay with my weight and height proportion. I weight 51 to 53 kilograms and stand 5'3" so I have a normal body mass index (BMI). My goal that time is to be able to improve my sleeping routine as I was suffering from not being able to sleep I don't know if can declare it as insomia as I do not really undergo medical intervention instead I just help myself by changing my lifestyle and putting more physical activities in my daily routine. I was not able to sleep early that time as I am really having so much negative thoughts and overthinkings and also maybe because I stayed on the phone a lot more than I should. Over all, I wasn't really in a good shape mentally that time and I feel the need to do something before it gets worse.
Indeed, that was successful and my sleep schedule improved a lot along with some other distractions as well not to overthink things.
That lifestyle really goes on until a few months especially duringthe break from my work. But this time I am no longer doing such as my work is really getting hectic most of the time and I am already drained by the time I returned home. Sometimes, I even have to go to the workplace even on weekends to finish some tasks. My friend also felt lazy and tired and I honestly miss doing such. I bet I will get body ache and muscle pain when I get back to jogging since it has been really quite a while that I haven't jog.
Jogging is also a goof stress-reliever personally. It just feels such a relief releasing all those sweats, I feel like some negative energy are released as well hahaha. Even back in college I used to jog after school since I live near in the Cebu City Sports Complex where there is an oval for jogging. In my case right now though I just jog in the roadside uphill and get to enjoy the breath-taking view. Literally taking my breath as it's really way uphill and my cardio is not that superior.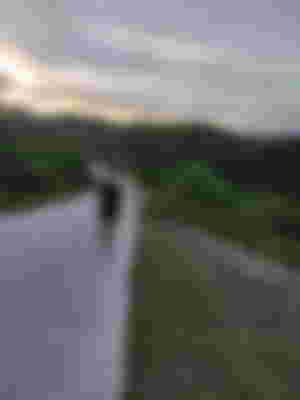 Look at that steep road! We jog through that and take a rest after a few meters from that.
Do you guys enjoy jogging or walking around also?