My Carburetor Died before My Car Retires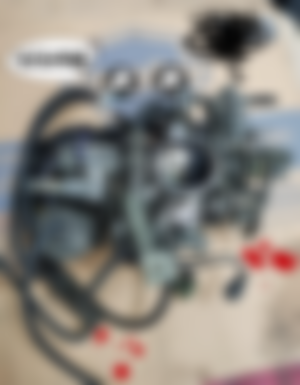 Yes, the time is up for this part of my current 15 year old car....
While waiting patiently for the queue of a new car (yes it is queued due to lack of assembly parts, back log orders, and slow labour due to covid restrictions), my trusty Pegasus "had a heart attack" yesterday while its engine gagged for air.
Turns out after servicing the carburetor on Saturday its condition became worse, and yesterday was the last day of the old carburetor's lifespan to function normally.
After talking to the mechanic who re-checked my car in the morning, a grim phone-call came in saying,
"Ma'am, we need a new carburetor for your car. Otherwise your car's engine won't last for the next 3 months while you are waiting for your new car to arrive."
My heart was stabbed into pieces, knowing that a brand new carburetor for my current little Pegasus was scarce and expensive. It costs around $320 USD. I was really in dread as I am reserving all my savings that are available for the new car, and this additional bill was not calculated it.
My mechanic found a re-conditioned carburetor available that has a 3 months warranty for $156 USD almost 50% cheaper than (hard to find) brand new one.
After calculating through the benefits and in home I can trade in my trusty car with a higher price to offset my down-payment, I have decided to make the plunge. I can't be penny wise, pound foolish in this situation; because if I choose not to repair it, it can break down on the busy highway anytime as it is now a walking timebomb. Moreover, it will damage my car's engine and turning my car into a useless scrap metal.
---
Wishing my car can still be a blessing to others after trading in, in some small village slowly retiring to its eternal haven, this is the best possible choice to make because the engine is still all right.
---
Fortunately, there is already a $190 USD compounding for 3.5% APY in Binance.com derived from my savings + great blessing from @Helyanwe . There's actually enough to source for the reconditioned carburetor.
Recently my office that has gone through so much trials the last 3 years, resulting all the seniors (including me) to have 30% salary cut, managed to revive a little from a recent confirmed project. Last night the directors decided not to take their salary still but to bill me my overtime work (assisting around the clock during covid lockdown) as a way to help me to increase my down-payment in order to reduce my monthly loan service.
It was totally unexpected! And in all honestly, I was so overwhelmed by the surprise I cried for a good 20 minutes as my HR and directors encouraged me to fight in perseverance, wisdom to handle all my mortgage and loans for the sake of my elderly parents who need regular monthly medical care.


Indeed HE is the ultimate provider. This entire experience making the right decision while facing the market crash everywhere was truly nothing short of a miracle.
---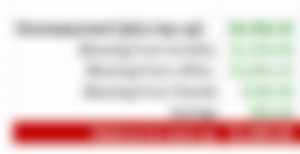 So far based on sure amount that are coming in a spread until April, I still have $1,060 to go. I am just so grateful that my brother who was once almost bankrupt in his business before, God has truly blessed him overflow that he decided to help this little sister out in return because he couldn't source out time to take my parents to all the hospital runs (moreover he stays quite far from the designated hospitals). God has touched his heart to become a better person, and has truly repaired his marriage and our entire household's relationship.
All things are possible.
Maybe by April the market will start to recover. In the mean time, all my compounding interests from various investments like TELOS , NEAR , CAKE are still running.
Now it is just stay calm, be patient and stick to the plan.
Sponsors of littlenewthings