My Best Day Ever
Before i started write my article, i just wanna accept the challenge being impose by @Coolmidwestguy one of the user here and maybe one of the generous who always give the emphasize for the user who exert the effort once the challenge accepted. The person that i was saying is https://read.cash/@Coolmidwestguy wherein he published a short, here is the link that im saying https://read.cash/@Coolmidwestguy/post-6364ce9f#comment-6129ec2c and on the latter part there is a challenge for ..
Write a future article on any of the following subjects:
Your best day ever
Something you haven't done but want to
Someone who has meant the most to you in your life so far.
Just mention me in article and I'll surely upvote you well :) I will leave this opportunity open for 5 days.
I hope you guys just visit the link above to make and accept the challenge.
Let go back to what im saying for "My Best Day Ever", for accepting the challenge. As we all know one of my hobby doing in my life is ride a bicycle together with my co groups. Even it was so hard for me riding in a long hours but because of the willingness and determination anything can happen in a good way.
Here are reasons for me that i always do a bicycle ride are at follows:
it is a good healthy lifestyle to make achieve and get the healthy as well.

riding bicycle is one of the safiest to maintain our environment safe, we don't need a gasoline that cause toxic and produce gas that will harmful in our environment.

the camaraderie will produce and knowing each other members that will give more intact relationship

lastly we went to a different place that embrace the beauty of nature, getting refreshing of our mind and body once you see the different ambiance and place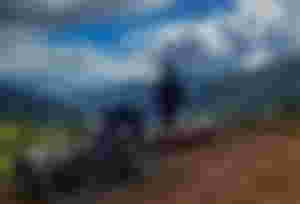 Just like we do, even it was a long rides, hard trail to passed, our body was tired, even our tires was flat due to rough roads, but once you are in your destination, all the tiredness that you get form biking will be gone, and you we feel so much success and you was saying "that's my day ever' do in my life by passing all the obstacle to get what you do in our life.
Sometimes the harder that we get is the best for us, once we passed them all our self will be happy. Just like my photo above i reach at the top of the mountain together with my co groups to see the beauty of it, and the freshness of the air in the top f the mountain was so much great, you can feel the coldness of the air for being freshness, that's the beauty of having a determination in our life to fulfill what it takes in order for us to make grow and best person that could be.
Closing THOUGHTS: for me it is a matter how you make success in your life by doing such a hard time to achieve your goal, dont think that you cant do without doing and not exert effort, just do in a small way then add on it, then all of the sudden you may feel that you can do even it was so hard, the best part is you started and dont turn down, and lastly believe and trust your self.