A Trip to Remember!
Good evening everyone! How is your day today? Well if you ask me I had a blast because once again we huddled together for anther adventure. Guess what it is? Yes you guess it right, it's bike date! I will share you our experience as we flunk our day outside with our ultimate bestfriend; our bike. But before that I just want to highlight my post for today, as this is my second time and I hope in the near future I get to share more about what happened in life, expect more and I will give you more! This is just the beginning and will look forward for more posting and day in my life. So long story short, let's proceed on what happened to day.
For my first agenda earlier this morning is to meet up with some of my good ol' friends, this is the day we've all been waiting for, to breeze up ourselves and swipe away our fatigues from our heavy workloads at work. We plan this for over a week now because we really want to just explore the outside world furthermore, at least every week or month we have this meeting up.
Anyway, as we all gather up and bring our friend; our bike rather, we reach our first destination. It is below mountain-nearby lake, so before we stretch ourselves and go all the way up to the mountain to seek some wonderful surprises, I ask on of my friends to take a photo of me weightlifting or should I say bike-lifting ! This is one my to-do-list ever since cause it's been a while since I've done it.
It is practically a success! Although it's a bit heavy because it's a mountain bike, but I still manage to lift my baby up. Look at my smile, the nature, the view.. It's breathtaking and fascinating, but this is only the starting up, we have more!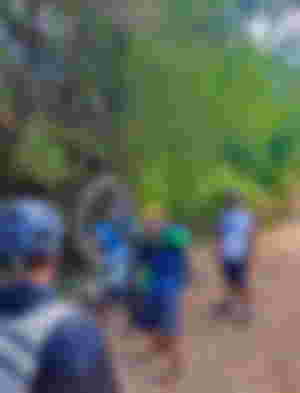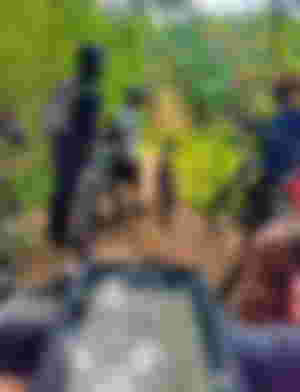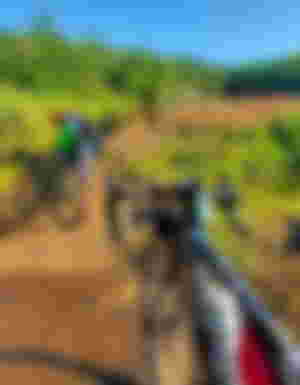 Agenda #2: Go with the trail-flow!
After several memory taking, this is it pancit! We're finally on track and ready to go and sightsee the wonders beneath that wonderful mountain. But first; safety. We must secure ourselves first because we are hiking/biking all our way up to a place where people is strictly gotten to, this only me and my bike mates going there. Luckily we have our guide with us who is also very good at biking that will come with us. But before we held our way up, we took upon some time to just nourish this flat surface trail before we go to the zigzag or up and up road later on.
At first it looks like a "bukid" or a farm due to its rice crops and a bunch or banana trees and son and so fort. but of course that's only the beginning of our trail, honestly it was a bit bumpy because going up on a steep mountain is not as easy as you think. On going up you really need the balance, the strength, the strategy and most especially your trust on yourself and in your bike. But as a well experienced biker who also go a lot on adventure like these, I must say I'm quite an amateur.
Well moving forward, and go (get it? forward and go? haha!) kidding aside, we manage to get ourselves all the way to our designated destination. Well we just get onto it with a couple of hours and it was a blast. Kinda exhausted because going up is not a joke luckily for us, a mere steep mountain is not the time to give up, this is for experience and exercise as well hehe. My bro's are amazing because for a person who get tired of work well here it's quiet the opposite! This truly proves it can wipe all your bad fatigues away.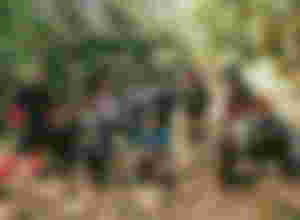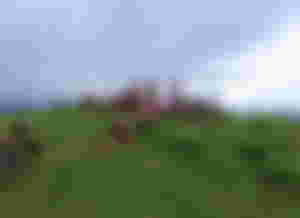 Agenda #3: Finding the gem on top!
So for our last agenda for today is as you can see on the heading "finding the gem on top" what is this I'm talking about? Apparently our mountain destination has a hidden gem inside of it, not literally inside but if you search deeper within you will see the spectacular view and refreshing water slide! Yep you heard me right, its related to water, and if you scroll up you can see a photo of us with the gem! But linoasis, where is the top? I will share it after this.
Okay first let me tell you the gem I'm talking about, previously on our biking trip we haven't seen any mountains with an actual water thingy inside of it all we saw is rock formations and 'top' of its mountain. But this time its different! If you've seen a lot of movies you can actually tell some of their scenes has its own water things inside of their mountain such as waterfalls. And now this is a moment of truth for me as I myself actually spotted its factors! So me and my bike mates get to huddle and shot some pictures for our experience! And oh one more thing...
The top that I was saying is the 'top if the mountain' yes! You will can't get enough of its beauty especially when you sight see everything on top, you will saw a lot of things houses, cars even traffic! Kidding.. But anyways this is a fun experience, yes we are "pahinglay" exhausted but worth it! This is something that I look forward too! I hope that one day I get to experience this with my family as well but for now let's explore things more.
Go on and live your life to the fullest! As long us you're here on earth grab the opportunity to explore more things and find something that is worth of your time. To be honest this is my stress reliever, despite of the stresses and it release all of it and i enjoy it especially it is fulfilling because WOW! you can achieve things that you think you'll never achieve. Like what I've said before, I only see this in movies, but now I'm seeing one; myself. This experience is truly a trip to remember... Goodnight!