The Philippines is very abundant in banana and Filipinos have a variety of recipes for them.  The ever-famous banana cue, this recipe that I'll be sharing which is pinaypay na saging or banana fritters is a one favorite dessert serving that the kinds and the oldies will love.
This recipe requires very few ingredients and no elaborate cooking expertise is required for those who wish to try this at home. One just has to learn how to form sliced bananas into a hand fan, which the name pinaypay na saging derives its name from.
I tried this at home, since my Mom, bought a lot of ripe bananas to help her dealer during the community quarantine here in our place.
 Try this out!
Ingredients:
10 pcs banana (saba variety)

white sugar (Prepare a lot this will coat the banana fritters.)

2 1/2 cups of cooking oil

1 cup of flour

Achuete
*You can adjust the ingredients if you are going to make more.
Cooking Procedure:
1.      Mix flour with appropriate amount of water. Whisk with pinch of achuete then set aside.
2.      Heat oil in a deep-frying pan or caserole and should be in a medium heat.
3.      Peel the banana's and slice it into a hand fan shape.
4.      Put sliced banana in the mixture and coat it evenly.
5.      If the cooking oil is ready, slowly add the banana mixture and let it fry.
6.      Sprinkle it with white sugar.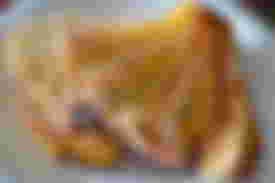 Cooking Tips:
1.      Do not overcook the banana or else it can leave a bitter taste.
2.      Do not throw the remaining oil. Keep it and use it for other way of cooking.
3.      Drain the excess oil or you can use a tissue paper.
4.      You don't always have to put sugar in all the banana fritters, some might consider eating it directly especially if the banana is already sweet.
Enjoy! Serve it with your favorite juice!
Try it at home and let me know!
Please like, comment and subscribe!