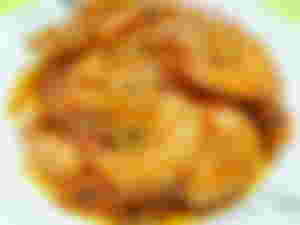 Staying at home allowed me to experiment different dishes for lunch or dinner at home. One day, my mother asked me to cook the fresh shrimp that she bought and I thought how to cook it in fast and easy way that will allow me to keep calm and chill while cooking. So, I thought of making Garlic Butter Shrimp.
Garlic Butter Shrimp is a super easy dish to make that's why I took it as an easy challenge in the kitchen. This recipe shows how to cook this beloved dish the Filipino way. I like how it turned out. The dish is rich and flavorful. I enjoyed eating it with newly cooked white rice and even without the rice.
The use of shrimp with scales and head make this unique from other versions. People who are used to buy frozen shrimp from the supermarket might find this uncommon. Cooking shrimp in this form is actually a common practice in some Asian countries, including the Philippines. You might wonder if that's possible and the answer is totally yes. It's so yummy and you'll find most of the flavors concentrated below the head.
Ingredients:
300 grams shrimp washed and cleaned
1 can of 7 Up or Sprite
4 cloves garlic, minced
1 small onion, minced
2 tbsp butter
2 tbsp tomato sauce (or tomato ketchup, that's okay)
Salt to taste
Ground black pepper
Procedure:
1.      In a deep bowl marinate the shrimps with 7up drink or Sprite for at least 2 hours. (So you can still write an article in read.cash while marinating.)
2.      After marinating. Prepare your pan and preheat it. Then, melt butter in your pan in a medium heat then sauté the garlic and onion until soften.
3.      Then, add the shrimp give it a good stir and increase the heat. Keep going until all sides turned orange.
4.      Add tomato sauce and the 7Up or Sprite that you used to marinate the shrimp and mix everything well.
5.      Leave it boiling for a while.
6.      Then, add salt and black pepper to taste. Then stir to mix.
7.      Then leave it boiling until the liquid become sort of creamy.
8.      Serve it hot and enjoy!
You can always adjust everything if you have more grams or kilograms of shrimp.
You can prepare this dish for yourself alone, for your boyfriend or girlfriend, for your friends and your whole family.
Try it and let me know!