We all miss going outright? We missed our food trips and family or friends gathering in different fast-food restaurants. When community quarantine started, my love for working in the kitchen started as well, simply because, I love eating first. J My younger sister and my niece would always ask me to cook something for them to have some snacks and I wanted to be a good sister and aunt, so I decided to try this recipe. I missed going too and eating out, so I decided to feel outside even if I am at home.
            Introducing …. Homemade Shakey's Potato Mojos – this is just a lowkey way of making a snack out of the potatoes stocked in our refrigerator. Hope you will like it and I hope you will try it also.
            What are we going to need?
            Ingredients:
                        5 big tomatoes
                        1 pack Crispy Fry (Breading Mix)
                        1 can Evaporada (I used Alaska; you can use what you prefer.)
                        1 cup All-Purpose Flour
                        2 Large Eggs
                        Black Pepper (to taste)
                        Oil (for frying)
            What are we going to do?
            Procedure:
1.      Peel and clean the tomatoes.
2.      Slice it with enough thickness and just follow its normal shape. When all potatoes are done. Set it aside for a while.
3.      Now, mix All-Purpose Flour, Crispy Fry - Breading Mix, and Black Pepper. Stir to mix it well.
4.      Next, combine in another bowl, the Evaporada, and the eggs, stir to mix it well.
5.      Then, put all the three right in front of you – the sliced potatoes, the breading mix, and the eggs with milk.
6.      This time, you have to dip the tomatoes on to the milk and egg mixture first, dip it well and make sure that all sides are coated or wet.
7.      Then, dip it to the breading mix. (You can dip it again with milk and egg and then back to the breading mix. It depends on how thick you would like to have your coating.)
8.      Repeat procedure numbers 6 and 7 down to the last slice of potato.
9.      Then, heat a pan or casserole with enough oil to deep fry your potatoes and wait until the oil boil. Then, turn your fire into medium to smaller heat.
10.  And then, fry your potato mojos until golden brown.
11.  Put it in a strainer with the tissue under to absorb the oil.
12.  Enjoy!
            So easy to make and yummy to eat!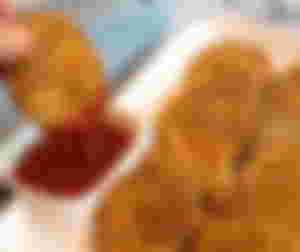 Enjoy while it's hot! You can use tomato or banana ketchup as sauce or mix tomato or banana ketchup with mayonnaise. Yep! That's right, you can mix it and it's yummy. Go!
And if you have gravy at home, then perfect!
You can prepare this dish for yourself alone, for your boyfriend or girlfriend, for your friends and your whole family. This is good also for a neighborhood business.
Try it and let me know!
Happy snackin'!
(I personally made this at home too.)