Are you feeling bored at home like me? And you find it expensive to buy something sweet? Hahahaha. Let me share this to you because out of boredom and cravings, I decided to try this recipe again. I first tasted blueberry cheesecake just last June 19, 2020. As in! Because I don't like its taste before but we ordered in my sister's friend for my niece's birthday and I was so happy with that Blueberry Cheesecake, so I asked my sister to ask her friend her ways of doing it ay her home.
Ingredients:
2 cups graham, crushed
1 stick butter/margarine, melted
1/3 cup brown sugar
1/2 tsp cinnamon powder(optional)
200g cream cheese
3/4 cup white sugar
370ml all-purpose cream, chilled
370ml evaporated milk
595g blueberry pie filling and topping
20g gelatin, clear and unflavored
Procedure (crust):
1) Combine crushed grahams, brown sugar and cinnamon powder. Mix well
2) Add melted butter and mix well
3) Press about 3 tbsp grahams into the container to pack it tightly
4) Chill until it sets
Procedure (cheesecake):
1) Combine cream cheese, white sugar and evaporated milk. Whip until combined
2) Combine gelatin and hot water. Mix until it dissolves
3) Mix dissolved gelatin and cream cheese-milk mixture
4) Whip all-purpose cream until doubled
5) Mix whipped cream and cream cheese-milk mixture
6) Pour about 1 1/2 cup cream cheese mixture
7) Chill until it sets
8) Top with 2-3 tbsp blueberries
9) Chill before serving
This cheesecake guys is really yummy and it's so good, not that sweet and not sour. So worth it! If you'll make it in a tub, you can sell each tub from 100 – 120 pesos. Instant sweet business!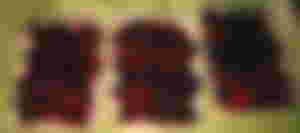 Try it! I know you'll love it like meeeee!
Let me know if you'll make one at home!