70th Birthday Program
This article was not checked via Grammarly, so expect a lot of wrong grammars. Well, nothing new. I just can't able to do it because I need to attach plentiful pictures I got from the group chat. The pictures that I will share to you are from my cousin's DSLR. I'll also attach photos that my uncle taken using his iPhone 12. Just flexing how lucky are they in life, hope all.
---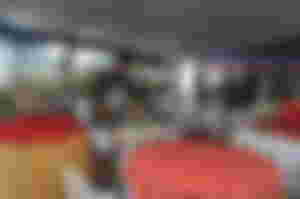 This is the photo where they were still organizing the venue. I don't know who they are, though. If I were not mistaken, it's been early in the morning since they were fixing it.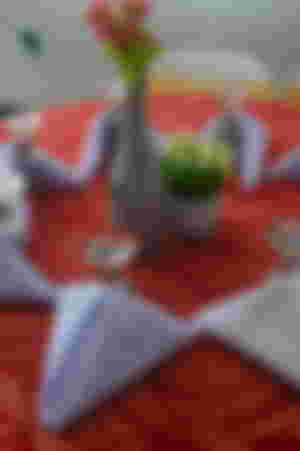 And after a couple of minutes, here is the result. I'm not an amateur designer, but I guess the primary hue of the venue is red and green. I just don't like the color, but the most important is the memorable celebration. What's the sense of beautiful motif if there has no visitors?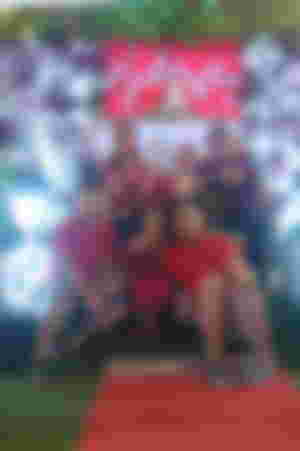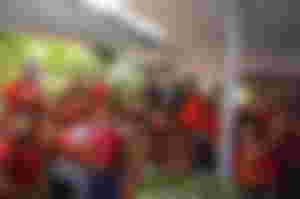 Before the ton of visitors arrived, my elders asking us to take endless pictures. The first photo is my family, and the other one is the family on my mother's side. Since I was young, red is the original symbol of our family. If you are asking if we are endorsing BBM, well, we're not haha. Let's not talk politics for this article, lol.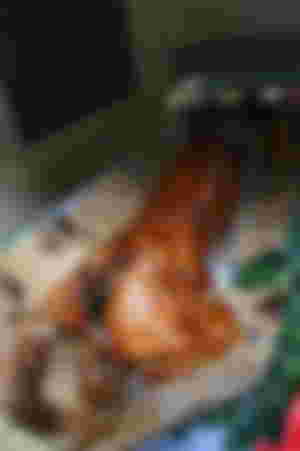 If you wanted to ask about the food, here it is. I just can't get the photos of the foods they served on the catering. But in the following paragraphs, it will be followed.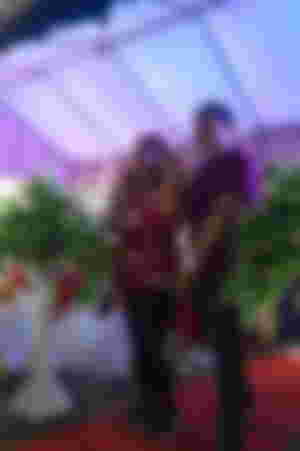 During the program, the speaker introduced my grandma's son and daughters with their corresponding spouses. I don't want to post all the photos they took, but here is the photo of my parents walking on the red carpet while performing "Paro-Paro G" haha. They are all happy, though.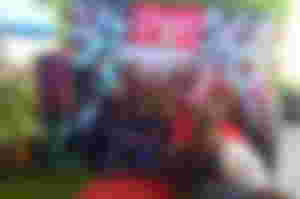 Another groupie again, haha. After their walking entrance, they are all compiled in stage and took photos together. In our clan, we are not ending our celebration without any pictures.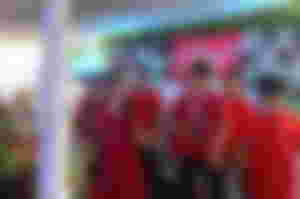 Sorry if I didn't save the picture about the game about the celebrant as I think it is not important. However, let's take a look on this humiliating intermission number. I feel bad as I staked my dignity in exchange of money plus the serious gaze of visitors. Good thing you were not there, or else I might be trending here in the BCH community. Nakakahiya talaga siya, nakakaiyak.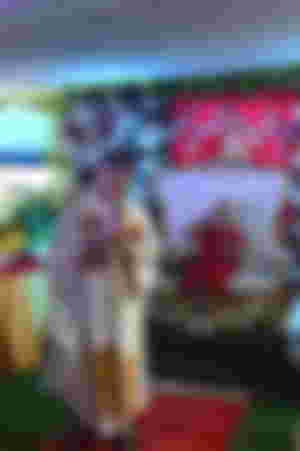 Okay, let's move on. I'm not a Catholic, so I don't know what is it. But based on what he did, they just prayed for her best. The visitors raised their hands while praying together as a form of power, I think? Not that sure, but that's what I comprehended.
I don't want you to be exhausted on scrolling, so I'll just explain it here. Following the blessing she received, her closest acquaintances shared some birthday wishes for her recent 70th birthday. The others shared a short but meaningful message and there's also an acquaintance who messaged her prosperity while he had a manuscript reading. Conversely, there's an individual who stood out the most because of her least effort visual aids with so long messages. It's not that important, but I still shared it.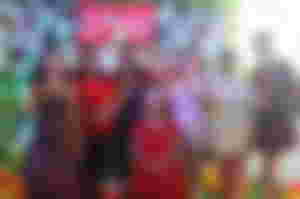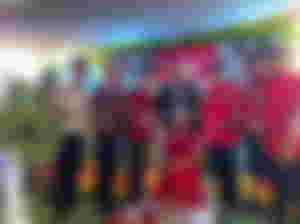 Subsequently, the announcer hosted the 7 candles and 7 roses. The candles are for girls, while the roses are for boys. If you ask me where am I in the photo, you would never find me 'cause I'm not there. I thought it is not that included on the program, lol. I just can't share all the pictures, so sorry in advance.
And here's what we are all waiting for, the buffet. I'm just a bit sad when they first fed the visitors rather than us. But anyway, that's our way of hospitality. It is a bit awkward if they would feed us first.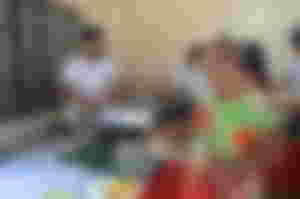 ---
And that's the program ended. The third part of the birthday celebration will be posted for tomorrow as usual. Thank you for reading.