After visiting the Davao Crocodile Park, our next destination was supposed to be the D'Bone Museum Collector, then the People's Park. However, we were informed that the last boat trip going to Isla Reta departs earlier than its schedule. The schedule was unexpectedly moved, which made us decide not to visit D'Bone Museum and People's Park instead.
Related articles:
---
---
Isla Reta Beach Resort is located at Barangay Sta, Cruz, Talicud Island, Davao del Norte, Philippines. Talicud is a Visayan/Cebuano which means back because Talicud Island is seen at the back of Samal Island.
Isla Reta is famous for its untouched sea kingdom and beautiful and serene beach with its long stretch of fine white sand. The turquoise water invites every tourist to have some plunges and splashes. The island boasts its naturally beautiful corals with marine creatures. The sunrise is exquisitely beautiful, so better wake up early and witness the beauty as the water sparks while the sun rises.
From Davao City, we traveled for several minutes to reach Barangay Sta. Ana Pier. And from the port, it took us 45-60 minutes to arrive in Isla Reta. White fine sand welcomes you with the turquoise water that sways to and fro.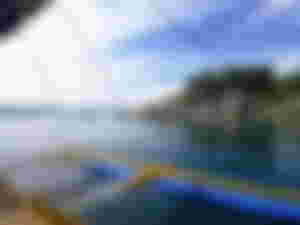 When we arrived, the resort was already full of tourists. The cottages were already fully booked - even the rooms and the rest house. A reservation should be made beforehand to secure a room, and unfortunately, we didn't do so. Since the resort was spacious, renting a tent with pillows and foam is available.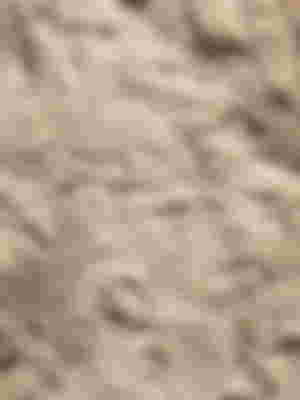 We rented four tents and had set them under the towering coconut trees. Some were camping along the shore, though. We also rented a table and chairs where we placed our food and ate.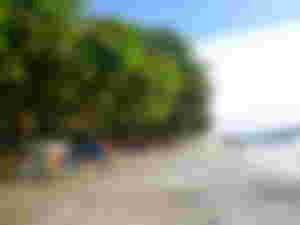 The place is really spacious. Even if there were lots of tourists at that time, still there was enough space for leisure and other activities like playing volleyball. On the right side of the island facing the sea, there is a good spot where you can have an Instagram-worthy post. Sadly, I wasn't able to go there since I chose not to wander around.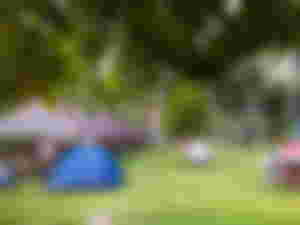 We had a very long day. We were exhausted since we immediately traveled for hours after work. Then we went straight on a city tour and then to Isla Reta. We were starving.
The resort has only one store, hence the price. Even so, the food was all delectable. We all had chicken and beef since we had two Muslim classmates. Also, the resort has a grilling area. They sell freshly caught fish and charcoal, too. With that, the tourist need not worry about how to grill the fish or meat. Or request to cook it for you since it is one of their services. Bringing food is allowed in the store without corkage, except for liquor and soft drinks and Lechon baboy (roasted pig).
After devouring the food hungrily, we decided to chill and play some games. Unfortunately, there were not enough lamp posts in the tent area. We didn't have a flashlight, but we had a tripod and phone.
We played three games. Two were card games, and one was a vocabulary game.
Bakak
Bakak is a Cebuano term for Lie. It's a card game wherein the player will guess whether the cards said and thrown is either lie or truth.
The goal here is to throw all your cards.
Minimum of three players. Each player is given five (5) cards at the beginning of the game.

The first player releases one or two, not more than three cards, and then says what card it is. A card is thrown downcard.

The next player guesses if the preceding player releases the exact cards spoken. If he thinks it's the truth, he will release another card and do the same process as number 2.

If the player guesses it wrong, then he will draw another card placed at the center.

Once the player has completed a suit, he will put it in the center in an upcard orientation. You can only draw three sets of the same cards at a time. Otherwise, it shall be surrendered and placed at the center. 

The one who will no longer have cards in his hand will be the winner. There can be multiple winners depending on the number of players, but there is only one loser in every game.
Example:
First Player: Two (2) Jack. (Throws 1 Jack and 1 Nine of Spades)

Second Player: Lie.

First Player will take the two cards again.

Second Player: 1 Alas. (Throws 1 Alas)

Third Player: 1 Alas. (Throws 1 King)

Fourth Player: 2 Alas. (Throws 2 Alas)

Fifth Player: Lie.

Fifth Player will take the four cards thrown.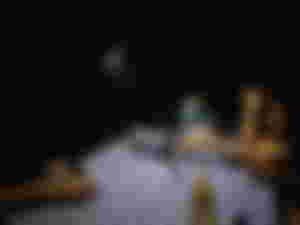 Go Fish is another card game that involves memorization. Memory is tested in this game. The player needs to catch those who are carrying the same set of cards. In other words, you have to steal the cards from your opponent.
The goal is to house a suit. Those who house a suit more is the winner of this game.
Players must be a minimum of five.

Four cards are given to each of the players. The remaining deck of the cards is downcarded at the center and will be drawn every wrong guess.

If the player guesses it correctly, the player mentioned must give all his cards the eldest player asked.

If the player guesses it incorrect, he will draw another card and the next player in the game is the one who is mentioned by the preceding player.
Example:
Player 1 has 1 Jack of Diamond, 1 Jack of Spades, 1 Three of Spades, 1 Nine of Diamond and 1 Ten of Club.

Player 2 has 1 Jack of Heart, 1 Queen of Heart, 1 Two of Diamond, 1 King of Club and 1 Five of Spades.

Player 1 will look for the cards that are in his set of cards only.

Player 1: Player 2, give me the Jack card.

Player 2 will automatically give his Jack of Diamond and Jack of Spades to Player 1. Player 1 will still continue to look for cards.

Player 1: Player 2, give me the three cards.
Since Player 2 doesn't have three cards, then it's Player 2 turns to look for the other set of his cards.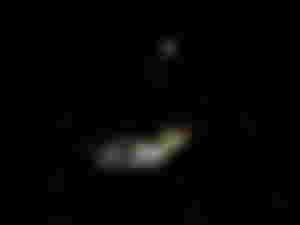 S-Game is a game of vocabulary. Words thrown per player should be related, but words with an S sound are prohibited in the game.
The goal is to give a word or set of words connected to the previous word such that it doesn't end with the letter S and the sound of the letter S. There is only one winner in this game.
Minimum of two players.

Each player is given five (5) seconds to think of another word or set of words connected to the first/preceding word/s.

After 5 seconds, if the player failed to give a word or the word given by the preceding player is not connected, he will be eliminated.

Words that end with the sound of the letter S are prohibited. For example, Science, Disease, Osmosis, Hindrance, Sax, Fox, Metamorphosis, Thermodynamics, and Electronics

Another language is acceptable such that all the players know that language.

Repetition of words is not allowed, otherwise, the player will automatically be eliminated.

There is only a maximum of two set words with the same meaning to be dropped. Otherwise, the sequence will automatically be reversed.
Example:
Player 1: Cardiovascular
Player 2: Vein
Player 3: Heart
Player 4: Broken
Player 5: Nagbulag ("Nagbulag" is a Cebuano term for Break-up. )
Player 6: Depressed
Another one:
Player 1: Chemistry
Player 2: Periodic Table
Player 3: Carbon Dioxide
Player 4: Lead
The previous two players said two synonymous words such that both are chemical elements found in the periodic table. The next player must not use other elements found in the periodic table but rather involves in the word Lead (Pb). However, Lead can be interpreted differently.
Player 4: Leader
Player 5: Organization
Player 6: Businessmen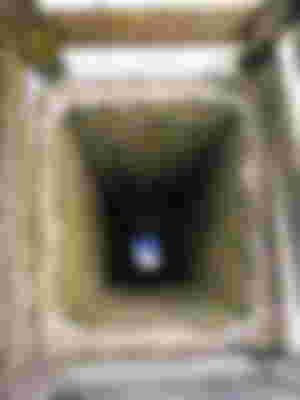 One of the rules and regulations in the resort is to avoid making noise after 10:00 PM. And my classmates and I were guilty on this part because we played until past 2:00 AM.
My classmates were very competitive and did not want to end our game. They enjoyed the game that I suggested, the S-game, and wanted to defeat me. Haha. When they all had at least one point each, we decided to rest already for our coastal tour early in the morning.
Some went directly to the tent, and some of us stayed a little longer since the sky was stunning. The place was peaceful and relaxing - the cool sea breeze, the sound of the crickets and the waters, and the sparkling stars at night. What a perfect way to wrap my day!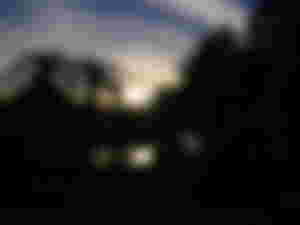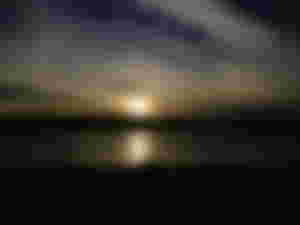 Even though we had only a few hours of sleep, we still woke up early to see the sunrise of Isla. I was the last one to sleep, and the last one to wake up. My time lapse plan was ruined. Still, I'm thankful enough I get to see it somehow.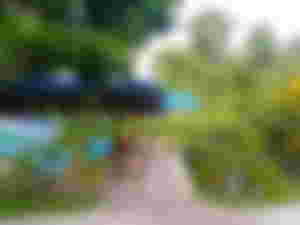 After the sunrise viewing, we all ate our breakfast - bread and coffee/hot choco - for another tiring day was ahead of us. We waited for our one classmate who will arrive riding with the pump boat we rented for the Samal Island tour.
---
Previous Articles:
---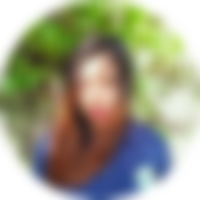 You can find me here: Noise • Hive • Steemit • Goodreads • Twitter • Instagram