What Would You Do With 10 Million Dollars?
Article #36 April 6, 2022
Hello there, guys! How are you doing right now? I hope we are all having a good time and not experiencing any difficulties. It is natural to have problems, but I hope you are able to overcome them. You can do it!
Congratulations on reaching 500 views on read.cash. I was overjoyed when I got this notification here; it appears that in my first month here, I had already accumulated 500 views on my articles. How wonderful our Lord is, isn't he? This type of notification motivates me to write more.

Today's blog will once again answer prompt questions. In this platform, no one can compete with the power of a prompt question. Hahaha. Aside from that, prompt questions allow our minds to be more productive rather than wracking our brains for hours and coming up with nothing.
I obtained the questions from Google, and there are 80 of them. You can also respond to portions of it as your article for a specific day. The random questions may be found by clicking here.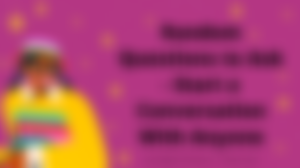 My first wish is to be wealthy, not extravagantly wealthy, but wealthy enough to allow me and my family to live at home without having to work. Simply get along and be happy, which is something we don't do very often. The second wish is that the corona virus would be eradicated not just in the Philippines, where I currently reside, but across the entire universe. We've had enough of pandemics, and it's time to put a stop to it. My third and last dream is for a cure for all human diseases and illnesses. I'd like to live them for a longer period of time, especially when they're young. They are deserving of seeing the world's splendor.
I agree that money is necessary nowadays, but I would rather throw it away than love. Money is difficult to earn, but it can be done, but love cannot. I don't think you can get love back if you toss it away. Love is priceless; there is no price for sincere love.
Thank you, my dear sponsors, for sticking with me; I pray that God gives you more power to create more informative articles.
I'd rather have 10 hobbies than one passion. You'll understand why I chose 10 hobbies if you know me that well. Crocheting, stitching, sewing, reading, watching, writing, and a variety of other hobbies are among my favorite pastimes. If I say I have one passion, that is what I will do for the rest of my life since that is what I love to do all the time, but I am not the sort of person who can do one thing all the time. I have a diverse set of hobbies that I will eventually tire of and replace with others. I prefer learning new things.
That's a great deal of money. I wish I had that type of cash, haha. If I had 10 million dollars, I will purchase a house and a lot and live there with my family. Not only will I purchase a house for myself, but I will also buy one for each of my siblings. I plan to start a lot of enterprises in order to earn profits rather than merely spend it. My spare cash will be invested in BCH and other cryptocurrency tokens. Who would fail to remember to offer tithes to the Lord? I will contribute my tithes, which are 10% of my money. I will also give to many charity for toddlers, children, people with disabilities, and senior citizens. 10 million dollars is a large sum of money, and you may spend it on many things, not just for yourself, but also for others in need.
Yes of course. Whatever it is, I will get into reviews. We may depend on reviews while purchasing or selecting items. As an internet shopper, I will not purchase items with a high number of negative reviews. It is evidence that the merchant is unresponsive and impolite, or that their items are defective and damaged. In life, reviews symbolize how others perceive you. If you believe you are a true inspiration, someone will express their ideas on how terrific you are and how much they admire you. Whatever others say about you, keep yourself in mind. Do not return to them and hurt them further; instead, pray and God will take care of everything.
That's all for now, folks. Thank you for your time. I hope you are in good health. After I finish this, I'm going to bed. Today has been a productive day for me because I spent time outside with my buddies. It is a once-in-a-blue-moon opportunity, so I seize it, and happily, I was in the mood to go outside a while ago. Hihi.