My Crypto Earnings (December)
It's hard to believe that another month has already come and gone, and this time that also means a new year as well. With that said, it also means that it is my favorite time of the month.  The time that I calculate all of my earnings from cryptocurrency during the month.  This is part of an ongoing series that I write that tracks my progress towards my eventual goal; obtaining financial freedom.  I don't do it to boast, but to help keep myself motivated and also hopefully to help motivate others to begin their own journey.  After all, if I can do it, anyone can.  Last year at the beginning of the year I set a lofty goal of reaching crypto earnings of over $2,000 per month.  Unfortunately, I ended up not reaching that goal.  In order to achieve that goal I was depending on the price of bitcoin and other crypto to see parabolic grown, and also that my crypto blogging earnings would also see large growth.  Naturally the opposite happened.  Bitcoin went through a summer that saw its price drop and that caused my lending profits to drop significantly in-terms of dollars.  At the same time, blogging sites began to pay out less as well. It was a double-whammy.  Towards the end of the summer and also end of the year, I would end up seeing steady growth.  While it wasn't parabolic, steady growth may be more sustainable for my future. 
With that said, this year I have once again set extremely ambitious goals for myself.  Striving to reach $4,000 per month earnings from crypto before the end of the year.  Will I be able to reach it? I have no idea, but I'm excited to try.  In the month of December I focused on the same areas as usual.  That includes Crypto blogging, lending and also staking.  If you have been paying attention to the bitcoin lending landscape you will know that it has become quite a messy arena.  Meaning that it is becoming more and more difficult to maximize your earnings by doing this.  This required me to lend out bitcoin at several places.  It was a lot of extra work, but overall worth it in my opinion.
So without further delay, let's dive into my earnings for the month of December.
Publish0x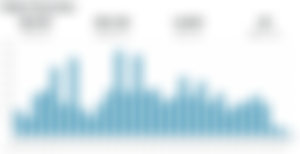 As always, I have really enjoyed my time blogging on Publish0x.  The community here is something that sets it apart from many places on the internet.  Especially when it is so easy to find toxicity on places like Twitter or Reddit.  My performance on Publish0x is very consistent.  Always sticking in the same range of around $40-60.  My posting this month was a little erratic due to the holidays, but I am looking forward to getting back to my regular schedule in January.

As far as my follower count goes on Publish0x; I am inching closer and closer to my next goal of 5,000.  I'm excited to keep using this platform.
Publish0x Total = $51.50
Read.cash
Read.cash is often the platform that surprises me the most.  The first year I used the platform, I would hardly ever receive any earnings from my posts.  I'm not sure what happened, but something clicked and all of a sudden it has become one of my most consistent earners.  As always, I enjoy the fact that you could be paid at any time, depending on when the tip bot decides to tip you.  Better yet, you can withdraw instantly at anytime as well. 
Read.cash Total - $108.19
Hive / LeoFinance
Using Hive and Leofinance used to be very similar to using Read.cash for me in the past.  I would hardly ever make any earnings, but kept with it.  Then, something changed and I began to see better performance there.  My performance on Hive/Leo is very hit or miss.  I will go several articles with little to no performance.  And then, I will randomly have an article that does extremely well.  During the beginning of the year my articles were doing better on Leo than on Hive.  But recently that has changed.  The last few months my posts on Hive have been significantly outperforming my posts on Leo.  I'm excited to keep using the platform and try to become even more consistent here.
Hive = $153.07 & LeoFinance = $25.27
Total = $178.34
Substack - $0
This is my future play.  While I am not earning anything here yet, I am trying to build a community that enjoys my work and is something that I am in control of.  Perhaps someday Substack will become a main component to my earnings.
Blogging Total = $338.03
Ledn - 
Recently Ledn lowered their top lending rate tier for bitcoin, now only up to 0.50 BTC.  Which means that I needed to withdraw and transfer to other platforms.  With that said, I still have thoroughly enjoyed using Ledn and would recommend it to most people.  I've had no issues with depositing, withdrawing, receiving payments and have also had great support from their customer service team.  The only drawback is that withdrawals can take longer than desired.
Bitcoin - 0.00252941 BTC = $118.88
Celsius -
Celsius has a very similar story as Ledn.  Celsius at one point was my favorite service to use to lend my cryptocurrency.  But they lowered lending tiers for bitcoin and that required me to split my coins up amongst several services.  They still do offer very good rates, have weekly payouts, and quick free withdrawals.  I still hold out hope that someday they will raise lending tiers in the future.
 Bitcoin - 0.001445 BTC = $67.91
FTX - 
FTX has recently become one of my favorite exchanges to use.  They pay 8% interest for your first $10k in holdings, and then pay 5% for anything after that.  5% is a very good rate, and I'm not sure how long they will be able to offer that.  So in the meantime, I am taking advantage of it the best I can.  At the moment I am keeping a healthy amount of bitcoin, ethereum and Solana on the service.  My only complaint is that FTX US, (the form that I'm using) has a limited amount of coins on the exchange.  I hope that will change in the future.
Bitcoin - 0.005193 BTC = $244.07
Ethereum -  0.008153 ETH = $30.98
Solana - 0.015 SOL = $2.59
Nexo - 
Nexo has become a bigger component of my lending strategy as of late.  While it used to be only a place that I would take out loans and keep some bitcoin on the service as collateral for those loans.  The lending landscape has changed and locking up BTC for 1 month intervals for a 5% APY has become a much better proposition.  Especially when that same BTC could be used as emergency collateral for my loans if the market were to see a huge drop.  
Bitcoin - 0.001236 BTC = $58.09
Kraken -
I have really enjoyed staking both ethereum and polkadot on Kraken.  While they do charge fees, it is still better than other exchanges such as Coinbase.  It is extremely easy to use as well.  Ethereum staking rewards are given out weekly, and polkadot is paid twice a week.  Although, the ethereum rewards are locked until ETH 1 and ETH 2 merge, and isn't compounding until that happens.
Ethereum - 0.01431219 ETH (Staking) = $54.34
Polkadot - 0.65443927 DOT (Staking) = $19.07
Lending & Staking Total = $595.93
Overall, I'm very happy with my performance during the month of December, and also the entire year.  While I didn't reach those lofty goals that I had set for myself.  This hobby of mine has become a significant amount of money that I will try to multiply even further.  Of course, a lot of that depends on what happens in the market.  If we were to go through a difficult bear market, my earnings would be affected greatly.  Also, if we were to go parabolic, things would grow immensely.  That is the risk that we take by participating in such volatile assets.  The important thing to remember is that even though I calculate my earnings on these posts in dollars, because of the ease of measurement.  Some months are up and some are down.  But, every month the amount of crypto that I have been earning has grown, and that is the important thing.
How about you? What are you doing to earn crypto? What have been the things that have worked the best for you?
As always, thank you for reading!