Wedding Anniversary gone wrong....
And I'm back for the new topic of the day, woot woot.
Yesterday, June 19 is a something special day that mostly a lot celebrates. It's Father's day. Of course, if there's no father, then we won't the mother won't produce a baby, in short, we will not come out of our mother's womb without the father's.... cell? okay let's stop it here hahaha.
So, yeah, yesterday we celebrate's father's day but before that, there is one more special event happened last Friday. It's our parent's Wedding anniversary last June 17.
There were no party happened as we want the two of them date somewhere out there but in the end, I've became the third wheeler party haha.
I told them, I will just give them the money and go date somewhere they want to go and I don't care if they come back late. Because I prefer to stay at home alone without their bangayan in the house haha. Until, it was already 2pm, mama and papa come to me and told me that I should come. And I was like.. "Huh? Why will I come? It's your date." They insist me to come. They might not be able to date properly, they might go fight again in the car because of some small nonsense topic. I sighed and it can't be helped. So, I joined their little date as I said, became the 3rd wheeler lol. I told them, to go in venice or somewhere nice place, in the end they choose the mall near our place. 
And we got in the mall, looking around while waiting for the dinner time since it was only 4pm we arrived in the mall. We went to the supermarket to buy something that will used and cooked for Sunday's Father's day.
Then, it's past 5:30 or something. Imagine, we stayed in the supermarket for more than an hour that was supposed to be only less than an hour because we just buy for Sunday. And the reason is, sigh they were arguing again what to cook and what to do in father's day. I want to shout that day and tell them: "Guys! Come on! Why are you fighting again, It's your Wedding day Anniversary not Fighting anniversary!" I wanted to say this, I am embarrassed to this people. Sigh, 'Why am I here for?' What I thought.
So, yeah, we start looking around to look for a restaurant and I told them no fast food, as my father request the day before that he want to eat Davao's food in food court... So, since I'm the 3rd wheeler, and mama said it's up to me where I want to choose to eat since it's my money.
First, I recommended to have dinner in Sambokojin eat all you can, and mama opposed. She said it's too expensive, and it will be a waste and not enjoyable. I got pissed off as I thought, 'why you think it's not enjoyable when you just have to choose what you want to eat, seriously?' So Sambokojin, City Buffet and Tongyang is a NO. Next we moved to another and I recommended Sukiya, it's a little eat all you can but it's another NO. 3rd I recommended Samgyup, another NO, because of the oil and greases and Pork and the smoke. 'WHAT THE HELL?!' I shout on my mind, but I can tell it to them, I'm trying to calm myself because it's their wedding day. 4th, papa recommended Max and another NO ans she said "Nakakasawa na kumain." Papa and I were like, since when did you last eat here in Max that was 2 years ago already! Lolol.
Ugh... This is more stressing than staying at home. We have already looked around the mall walking back and forth for 3 times just to look for something to eat. As I said her instead since I got irritated already. "So, where do you really want to eat?"
And finally she pointed the bannaple. I was like... What?! This doesn't look a Restaurant! The other one beside us looks more a restaurant than in Bannaple. But I can't argue with that, so I just took a Yes as I want to end this already and eat. I got hungry from looking around the mall 3 times just for this dinner date sigh... It's really stressing as I should have stayed at home instead. I used the money for their date, even though I want to eat in 'Eat-all-you-can'. Goodness. I know, even if the Crypto Crash, even the Market is down, I used some of my earnings just to treat this couple even if it's stressing haha.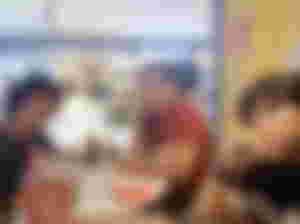 Here's the picture, it doesn't look like they are in argue session. We got our foods and we had finally a dinner then after we home as if nothing happen lol. What a stressing wedding anniversary. This should be the title of the topic but oh well haha.
Sunday, so yeah, it's Father's day. Although we are not complete, we are only 3 people in the house. My brother is at his wife's house, my 2nd sister in Saudi and our youngest living in Rizal and still have work. They don't have time to come home and celebrate anymore and that is fine with us, we already have used to it without them haha.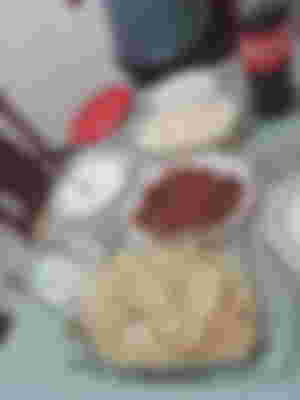 We have here Carbonara, Chicken wings and of course my favorite fruit Salad..
Even if we are incomplete, we still enjoy this simple celebration. As long as our father is still with us that's fine and yeah that's all it matters.
Anyway, this is the end of the short article for now haha.
End...